Christmas is a solemn, festive day not only for believers, but also for many atheists. On this bright holiday, people wish each other all the best, decorate the house, serve traditional dishes for each nation. In different countries of Europe, Christmas is celebrated in different ways, in accordance with ancient customs.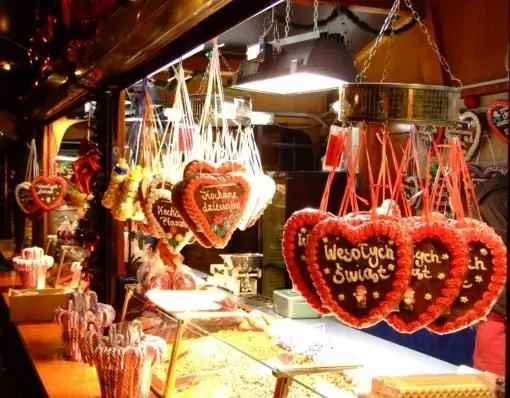 Instructions
Step 1
In Italy, where the overwhelming majority of the population is Christians (Catholics), the celebration of Christmas is taken extremely seriously. Before the holiday, each family carefully cleans the house, and on Christmas night they go to church for divine service (Mass). After returning from Mass, the family sits down at a festive table, where there must be dishes such as white beans, lentils, beans with honey, pasta - durum flour pasta with walnut sauce, and rice cooked in almond milk. Goose can also be prepared if desired.
Step 2
Most Spaniards are also Roman Catholics. But their Christmas celebrations are much more fun and noisy than the Italians. Many Spaniards, dressed in carnival costumes, dance before the mass at the church doors, act out scenes from the performances. It is customary to eat many sweet treats on Christmas night (so that the whole year until next Christmas is as sweet, that is, light, carefree), so the pastry shops are open until dawn. Pork, ham, almond soup, chestnuts, honey and nut halva are always served at the festive table.
Step 3
In Sweden, preparations for Christmas start with a general cleaning. In many villages and small towns, before Christmas, the floor is still covered with juniper or spruce branches, and a wreath of straw bundles decorated with colorful ribbons is hung over the festive table. In large cities, very few people follow this tradition. The festive table is served with fried goose with apples and plums, fried pork with potatoes, fruit pies, and fish. It is considered the greatest chic to prepare fried pork head and boiled tongue stuffed with pieces of bacon and vegetables for Christmas.
Step 4
Czechs always dress up a Christmas tree before Christmas. After presenting gifts to each other, the family sits down at the festive table. The main dish is carp baked with caraway seeds. Even people who do not like fish try not to deviate from folk traditions this evening and always cook carp. Fortune-telling is often arranged after dinner.
Step 5
In Germany, according to an old tradition, lush Christmas markets are organized before the holiday. Merchants dressed in medieval costumes sell all kinds of food, hot wine and Christmas tree decorations. Before the gala dinner, the children sing Christmas carols in chorus. Roasted goose and sweet pie with nuts, raisins and marzipan are always served on the table.