Until 1917, there was a huge number of traditions in Russia associated with the celebration of Christmas. However, then they were almost forgotten, because religious holidays were now banned. But in the last decade, this holiday is gaining more and more popularity, so it will be useful to know how it is customary to celebrate this bright holiday.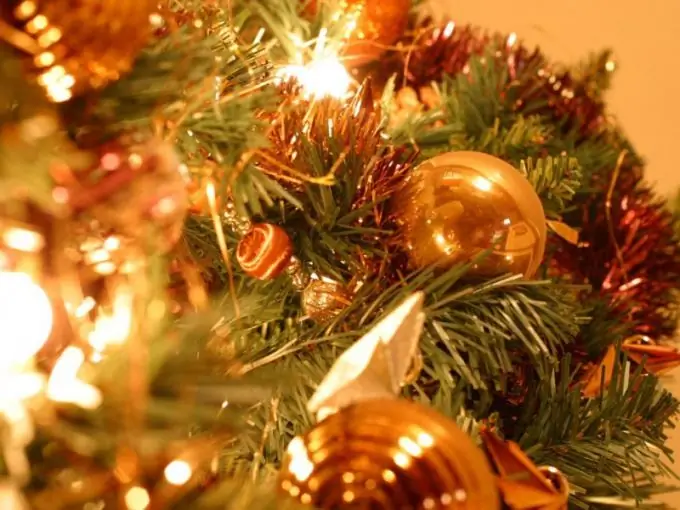 Instructions
Step 1
If you want to celebrate Christmas according to all the old rules, then first, do a general cleaning of the apartment. Traditionally, for Christmas, they have always decorated a Christmas tree and decorated their home, but now it is customary to do all this for the New Year, so just leave all these New Year's attributes until Christmas.
Step 2
There are also special culinary traditions associated with the celebration of Christmas. On Christmas Eve, that is, the day before Christmas, it is customary to abstain from food until Christmas "until the first star," as our ancestors said. For dinner, serve lean dishes, vegetables, casseroles. You can eat fish. To set the Christmas table, place a bunch of hay or straw under the tablecloth as a reminder of the manger in which Christ lay. Place some iron object under the table - iron was considered a symbol of health. Traditionally, there are 12 different dishes on the table for Christmas. Of course, it is unlikely that you will be able to cook 12 full-fledged dishes, so saucers with nuts, sweets, etc. will go for the dishes. However, this is not a very strict rule. Serve goose with apples or baked chicken with vegetables for the main course. Serve them salads, pies and other sweets. Traditional Christmas dishes in Russia include sochivo, which is made from cereals, honey and almond or poppy milk. It is customary to add nuts and raisins to such porridge.
Step 3
At the festive table, be sure to congratulate each other and wish each other all the best. Give gifts to children (and if desired, adults). Although, if you celebrated the New Year according to all the rules, then everyone has already received their gifts on December 31, but it is absolutely not necessary to give something expensive and large-scale. DIY Christmas souvenirs are also good.
Step 4
If you have the desires and the opportunity, go caroling. Carols are a pagan tradition, but they still survived in Orthodox Russia. Learn special carol songs and please yourself and your neighbors (if, of course, they are calm and tolerant people of such entertainments).
Step 5
If you are a deeply religious person, go to the Christmas service at a nearby church.