If your friend or relative went to serve in the armed forces of the Russian Federation, but you do not know where he ended up, and he himself does not provide any information about himself, you can try to find him. Use the possibilities provided in the instructions.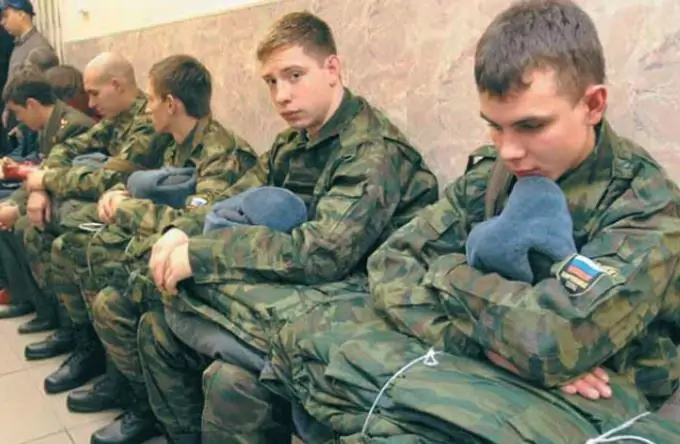 Instructions
Step 1
Contact the military commissariat. There must be kept lists of distribution of conscripts. However, the young soldier could be sent from the recruiting office to the transfer point, and where he was taken from there, the recruiting office may not know. However, when he gets to the distribution center, the recruit is obliged to notify where he will go to serve next, and give him the opportunity to inform his relatives about it. Unfortunately, this is not always the case in practice.
Step 2
If a lot of time has passed since the person left for the army, but the place of his service is still unknown, you can try to find the soldier by tracing his route through the transfer points. To do this, having found out the place of the first shipment at the military registration and enlistment office, go there and demand the power of attorney, according to which the conscript was taken from the distributor. There must be indicated the military unit, the type of troops and the name and rank of the one who took the replenishment.
Step 3
Then send a letter to this military unit.
Step 4
Make sure your friend can get in touch with you in advance. When escorting to the army, provide him with clean envelopes and writing materials, because at the new duty station, there may be difficulties with shopping.
Step 5
A reliable means of communication is an inexpensive cell phone. Parents should make sure that the young soldier is not left out of touch. Find out the number in advance, top up your friend's balance and wait for the call.
Step 6
If you suspect that your friend may be sent to serve in a place where there is a military conflict, you can contact the Committee of Soldiers' Mothers. They have the right to find out which of the young soldiers is sent to the "hot spots". Also in this case, you can try to contact the Union of Afghanistan Veterans or with another similar organization that is in your city.
Do not lose hope, look for the person yourself and wait for news from him. Sooner or later, your efforts will surely be crowned with success.