Armen Dzhigarkhanyan is known, perhaps, to every Russian. The colorful character actor often appears in various films and TV series. But the actor was also notorious for his scandalous personal life.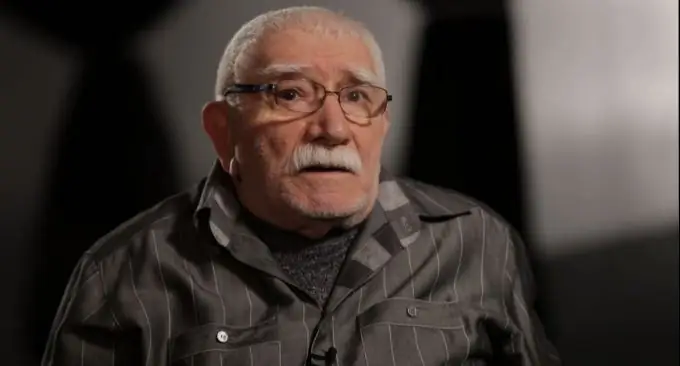 Childhood
Armen Dzhigarkhanyan was born in 1935 in Yerevan. The mother raised two sons alone, the father left the family. She was an ardent theatergoer and instilled a love for this art form in her children.
Childhood of little Armen fell on the time of the Great Patriotic War. It was hungry and cold, so the actor does not like to remember this time.
Nevertheless, Dzhigarkhanyan decided early on his choice of profession. Even as a teenager, Armen knew that he would become an actor. And so it happened.
Education
After school, Armen went to Moscow to enter GITIS. But despite his pronounced talent, Dzhigarkhanyan was not accepted because of the monstrous Armenian accent. Armen decided not to give up and come to enroll in a year, returned to his homeland and got a job at a local film company as an assistant cameraman.
But the Armenian accent was not going to give up, despite the stubborn pursuits of the young man. This shortcoming still gives the originality of the speech of the famous actor Dzhigarkhanyan. Therefore, Armen decided to enter the local theater university, and he was gladly accepted.
Creation
Armen Dzhigarkhanyan is one of the most prolific actors of our time. He has about three hundred film roles on his account. Basically, the Armenian actor is a master of episodes, but there are also famous leading roles in his filmography.
But the most important love and passion of an actor is theater. So he himself said. Armen began playing in the theater while still a student in Yerevan. He was especially given character roles. Until now, there are such characters that, except for Dzhigarkhanyan, no one would have played due to their strangeness. And Armen did it brilliantly.
In 1967, Dzhigarkhanyan met Anatoly Efros, and he invited the actor to his Lenkom theater. It would be unreasonable to miss such a chance, and Armen moved to Moscow. Yes, it stayed here. In addition to Lenkom, Dzhigarkhanyan also played at the Mayakovsky Theater, and later founded his own theater called Theater D (now the Moscow Drama Theater).
Dzhigarkhanyan also tried himself as a director and as an acting teacher.
Personal life
Armen Dzhigarkhanyan was married three times. All that is known about his first wife, Alla Vanovskaya, is that she suffered from a mental disorder and gave the actor a daughter, Elena. The daughter died at the age of twenty-three.
Then the actor was married to Tatyana Vlasova, who later left Dzhigarkhanyan for the United States.
The actor was probably extremely promiscuous in the choice of women, since his third marriage also ended in failure. Dzhigarkhanyan married Vitalina Tsimbalyuk-Romanovskaya, who was much younger than the actor. Vitalina worked as the director of the Armen's theater and later it turned out that she had squandered state funds there. There was a disagreement between the spouses and the couple filed for divorce. When parting, it turned out that all of Dzhigarkhanyan's property belonged to Vitalina on paper, and the actor was left with almost nothing.
Rumor has it that now Vitalina is dating a famous lover of mature rich women, Prokhor Chaliapin.