Many of us are faced with the need to urgently send something to another city and even to another country. What needs to be done for this, how to assemble the parcel and pack it correctly? These questions are asked by people who send parcels for the first time and do not know the postal requirements and rules. It is useful to find out for yourself some points in advance so as not to waste time in the mail.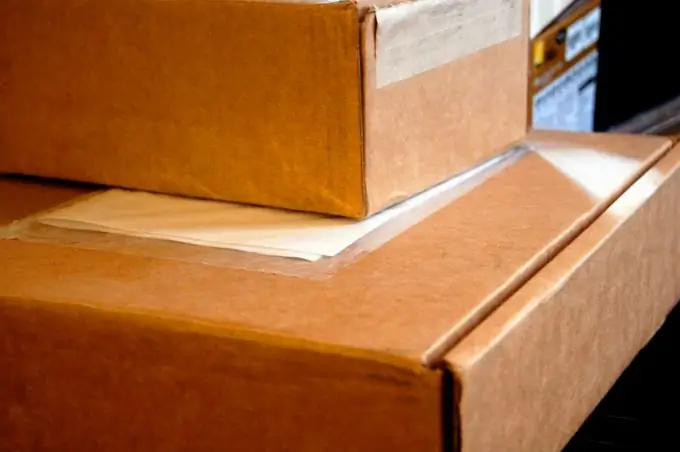 Instructions
Step 1
First, decide on the weight of your package. If it is more than two kilograms, then you need to find out which nearest post office accepts such heavy parcels for shipment. To do this, you can call the nearest post offices by phone.
Step 2
Items forwarded must be packed in special mailboxes, which can be purchased from post offices. You can pack the parcel yourself at home, since picking will cost money at the post office. If the item is not included in the largest box, then you should purchase special wrapping paper. Do not tape the package with your own tape. There should only be special zip tape on the box.
Step 3
At the time of sending the parcel, a sheet of inventory of the contents of the parcel is filled in if it is declared valuable. You will also need to fill out a postal form for sending a parcel, which will indicate your passport data, address, as well as the recipient's full postal address, his name, surname, patronymic. The same data is indicated on the box.
Step 4
After the package has been prepared, the operator must seal it with tape. Now the parcel can be sent for shipment with a completed form and a passport. The operator will give you a check, which will contain the total amount of all services, as well as the data you wrote earlier on the postal form. Once again, carefully check the correctness of the data on the receipt.
Step 5
To send a parcel urgently, Russian Post offers an express delivery service - Express Mail Service (EMS). EMS delivery provides delivery of parcels, documents, letters, cargo up to 30 kg in the shortest possible time. At the same time, it is very convenient that the parcel can be constantly tracked by its number. You can send an urgent parcel at a post office that works with EMS, or you can call a courier of the postal service at home. In this case, the parcel is also packed in special materials, sealed with tape. EMS combines reasonable prices and quality assurance of cargo delivery.