The very first beauty contest took place on September 19, 1888. The beauty contest is a colorful show in which beautiful and smart girls with a great gait and good stage speech take part. You can organize a beauty pageant yourself.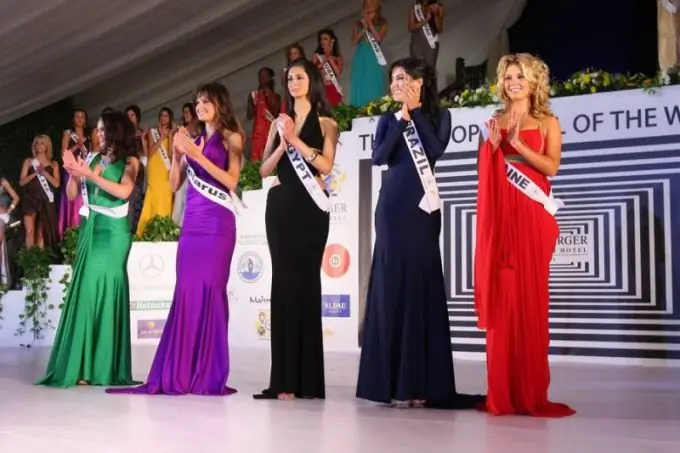 It is necessary
-Decorations for the hall;
-Invitations, announcements;
-Clothes, accessories, cosmetics;
- Prizes, gifts.
Instructions
Step 1
Rent and decorate the premises where the competition will be held. It is not necessary to decorate with balloons, you can hang posters from different beauty contests, put mannequins with fashionable clothes. Connect your imagination! Just like in any other competition, you need a jury of an odd number of people. It is desirable that people in it were of different professions, different ages and genders. The competition requires participants, so hang announcements everywhere, hand out invitations. When all the formalities are settled, move on to the main part - organizing a beauty contest!
Step 2
Homework Write about your homework in the announcements and invitations about the upcoming competition because the girls need to be armed. What can be your homework? -Draw your own collection of clothes; -Hand-made; - Make a gift for mom (sew a small pincushion, knit a scarf, glue a postcard, etc.). In this competition, evaluate not so much skill as diligence and love. Adult girls also adore their mothers - this competition will help them show their tenderness; -Film. Melodrama, comedy, action, historical - it's up to the participants to decide. Of course, the movie should be interesting. (Limit the show time, five minutes is enough)
Step 3
Contests Run to the shops Take a large number of different clothes and accessories, it can be pullovers, blouses, shirts, dresses, cardigans, shorts, skirts, trousers, jeans, hats, hats, scarves, gloves, belts, bracelets. Hang all this splendor on hangers. Before that, divide the beauties into pairs, each other will have to dress and make up. Of course, girls will need a fair amount of makeup. First she dresses up one another, then the participants change roles. Allow 10 minutes for each dressing. The more interesting, fresher, more fashionable, and maybe even more fun the beauties look, the higher they will get a score; Stiletto Heel Race Yes, yes, one cannot do without classics in such an important matter as a beauty contest. Young ladies stock up on heels, and you save a stopwatch. And, of course, the stadium will be very useful for you too; Creative task A person should be beautiful not only from the outside, but also from the inside. The theme of the competition can be any, for example, "How would I spend 1,000,000 rubles." The creative task reveals the soul of the participants, the main thing is that the competition is held within fifteen minutes, and the young ladies are not told about it in advance. Therefore, most likely, you will hear the true thoughts of the girls; -Quiz Here beauties will work their minds. Everything is as in a regular quiz, questions, answers, suggestions (4 answer options, expert tips, etc.)
Step 4
Gifts, prizes, incentives Turn on viewer polls or make a People's Choice Award. It is not necessary to choose a beauty queen, you can simply reward the girls in different nominations, for example, "The most charming", "The most resourceful", "The cutest", "The most smiling", but at least everyone should be awarded with incentive prizes, the competition is simply obliged to bring everyone Good mood! Choose flowers, perfumes, cosmetics, interesting books as gifts. Good luck!