Tatyana Rostislavovna Mitkova is a famous TV presenter of the NTV channel, a talented journalist. In the nineties, she became the standard of the profession. Tatyana Rostislavovna is distinguished by wisdom, honesty, punctuality.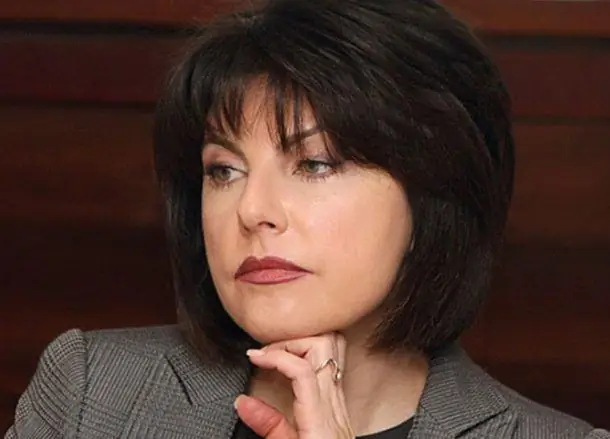 Childhood, adolescence
Tatiana was born on September 13, 1957. The family lived in Moscow, her father worked as a KGB employee, her mother was a representative of the country's embassy in Switzerland. She became a housewife when Tanya was born.
The girl graduated from school with enhanced study of English. She became interested in singing, dancing, visited the skating rink, made progress in music. Parents thought that their daughter would go to the conservatory, but she decided to become a journalist. In 1973, Mitkova began studying at the school of Moscow State University, where she taught journalism, and then began her studies at the evening department.
Career
As a student, Mitkova did an internship at Ostankino. Then the girl became an assistant editor, a special correspondent. She participated in the projects "120 minutes", "International Panorama", appeared in the program "Good Morning".
Tatiana was responsible for the material, free interpretations were unacceptable. Once Mitkova was reprimanded for missing information, calling for the withdrawal of troops from Afghanistan. In 1990, Tatiana became a news presenter.
In 1991, Mitkova was forced to resign. She refused to disclose the version of the events in Lithuania that took place in January. Then Tatyana worked in the ARD TV company (Germany), but then she returned and became the host of the Novosti and Vremya programs.
In 1993, Mitkova began working for NTV, having received the position of the host of the Today program. In 2001, the channel's staff split, the TV presenter did not support Yevgeny Kiselev. After his departure, Mitkova was appointed to his place.
In the period 2011-1014. Tatyana Rostislavovna again became the host of the program "Today. Results", while remaining the head of the service. Then she became editor-in-chief of the NTV Information Service, deputy director of the channel.
In 2016, the program "Today" went on the air with an issue called "Tatiana's Day", where Mitkova, Sudets and Vedeneeva performed. In the same year, Mitkova's film "NTV Vision: Oleg Lundstrem" was released, which was dedicated to the centenary of the jazzman. Tatyana Rostislavovna has many awards, including the Order for Services to the Fatherland, TEFI.
Personal life
Mitkova had 2 marriages, Vsevolod Soloviev, a colleague, became her first husband. The couple had a boy, Dmitry. He is interested in photography, auto racing. Dmitry has a son, Seva.
Then Mikova had an affair with Dmitry Kiselyov, a colleague. Tatyana Rostislavovna hides the name of her second spouse. He is rumored to be involved in financial transactions. In this marriage, Mitkova did not have children.
Tatyana Rostislavovna leads a closed lifestyle, spends her free time with her family. As a hobby, she is engaged in tennis, alpine skiing.