Dmitry Vladimirovich Kombarov is a very famous Russian footballer who now plays in Spartak Moscow. What is interesting about his biography and the personal life of an athlete?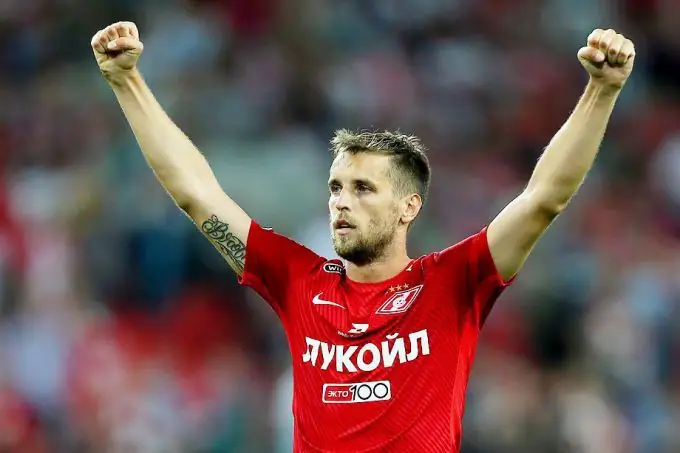 Dmitry Kombarov is one of two Kombarov brothers who have long been playing for various football clubs. Dmitry plays for Spartak, and Kirill - for the Tula Arsenal.
Biography of Dmitry Kombarov
The future footballer was born on January 22, 1987 in Moscow. He was born a few seconds earlier than his twin brother Kirill. From birth, the boys' father tried to instill in them a love of sports. At the age of three, they began to attend the gymnastics section. Then there were wushu classes. But still, in the end, Dmitry and his brother ended up in the Spartak football school.
At first everything went well for them. Dmitry and Kirill were simultaneously engaged in kickboxing and devoted a lot of time to football. But at fourteen they were expelled from the football academy. The coaches felt that the brothers had no potential.
Dmitry and his brother moved to Dynamo Moscow. They immediately got into the double, and a few years later they made their debut for the main team. And Dmitry did it first. His debut took place in 2005 in the game against Dynamo Bryansk in the Russian Cup. From that moment on, he began to often go out at the base and score decisive goals. At the beginning of his career, Dmitry played as an extreme midfielder.
After spending 5 years in Dynamo, Dmitry decided to return to Moscow Spartak. This transfer happened in 2010. Cyril moved back with him. It was a real boost for a footballer. Almost everyone played Spartak in European competition, and Dynamo rarely made it to the podium in the Russian Championship.
After joining Spartak, Dmitry began to regularly appear in the starting lineup and took a permanent place on the field for many seasons. True, his position changed a little, and he became a left wing back. This benefited the footballer. Dmitry began to join attacks more often and make dangerous shots into the penalty area. At the same time, the footballer himself more than once distinguished himself by scoring goals against an opponent with long-range strikes.
In total, during this time, Dmitry played more than 200 games in Spartak and won the title of champion of Russia in 2017.
In addition to his club career, Dmitry is regularly called up under the banners of the Russian national team. At the same time, he did not succeed in performing at the home world championship. Stanislav Cherchesov did not invite him to join him. Since his debut in 2011, Dmitry has played 46 matches in the Russian national team and participated in three major tournaments.
Now Dmitry continues to regularly enter the field in matches for Moscow Spartak and is already an old-timer of the team. His brother Kirill has long left the location of the club and played in several teams in Russia.
Personal life of Dmitry Kombarov
The footballer has complete order in his personal life. He has been married to a girl named Tatiana for seven years. In 2012, the young couple had a child - daughter Ulyana. Dmitry is an exemplary family man and never gets into various scandals. He spends a lot of time with his family and is engaged in raising his daughter.