Vyacheslav Razbegaev is a popular actor. He gets real pleasure from his work. He admitted more than once that fame and recognition did not attract him at all. But he still found his fans thanks to his masterful performance of roles.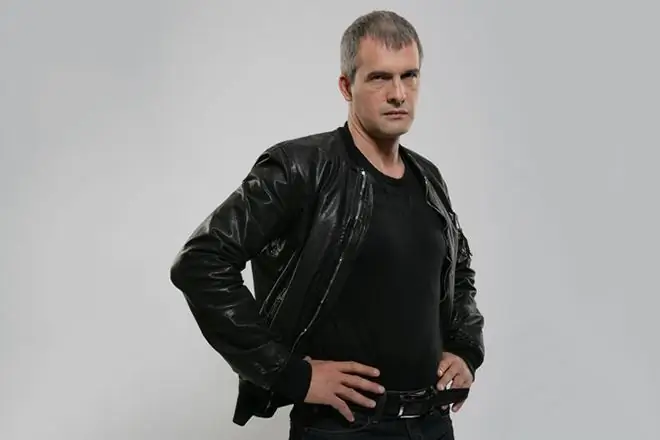 Was born on October 14, 1965 in Moscow. Vyacheslav's family was far from cinema and creativity. In the childhood of the actor, there was no place for any serious incidents. Everything was exactly the same as that of most of their peers. But there were also differences. For example, in his early years he began to study the Indian language, which later came in handy.
Received technical education. In this he obeyed his parents. After training, he began to work in production. However, less than a year later, Vyacheslav realized what attracted his acting career. He began to realize his desires only after the army. He began to build his creative career with work at Mosfilm. Vyacheslav got a job in a technical position. After working for 2 years, he entered the theater school of the Moscow Art Theater.
Performances on the theatrical stage
Vyacheslav's creative biography began with the theater of the Russian army. Until 2006, he played many roles. Before the audience, he appeared in a variety of ways. In 1994 he went on a tour of Europe. At this time he performed in the play "Oresteia".
Vyacheslav became popular after participating in the play "Ladies Night". On stage, he had to undress. However, the actor himself did not see anything terrible and shameful in this, having played his role skillfully and naturally.
Career in the film industry
Vyacheslav Vyacheslavovich Razbegaev began to act in episodic roles since 1986 thanks to his work at Mosfilm. After receiving education, a real debut took place. It happened in the movie "Woman and the Sea". Got a supporting role. He did not refuse episodic characters either. Vyacheslav had to work with such stars of Russian cinema as Fyodor Bondarchuk and Vladimir Menshov.
The action movie "Antikiller" brought success to the novice actor. Although he did not get the leading role, his character was remembered by viewers and critics. He played the role of Metis. Subsequently, eminent directors began to invite Vyacheslav. He mainly starred in serial film projects. Successful for him was the role in the film "Antikiller D. K: Love Without Memory." In 2004, the action movie "Personal Number" was released on television, where actors such as Alexei Makarov, Yuri Tsurilo and Viktor Verzhbitsky became partners on the set.
In 2006, the film "Tin" was released. In this motion picture, Vyacheslav Razbegaev appeared before numerous fans and film lovers in the guise of an investigator. According to the plot, he had to catch a dangerous maniac. Further, the charismatic actor starred in the show "Stars on Ice". Anna Semenovich became his partner. Together they almost made it to the final part. Subsequently, the actor again went on the ice with Angelica Krylova.
In 2011, Vyacheslav took part in an Indian film, playing the role of a general. It was in this project that linguistic knowledge came in handy. 2012 was a successful year. He starred in the TV serial Hot On the Trail. Among the latest works in which you can enjoy Vyacheslav's masterful playing, the film "Crew" should be highlighted. Although he did not get the leading role, he was able to be remembered by the audience.
Life off the set
How does Vyacheslav live when you don't have to act in numerous films and TV shows? The charismatic actor is in no hurry to spread about his personal life. It is only known that he has been living with his girlfriend Natasha for quite a long time. Together they are raising two daughters. The actor has repeatedly said that he also dreams of his son. In a relationship with his common-law wife, Vyacheslav is happy.