Vladimir Sverzhin is a famous Russian-speaking science fiction writer who creates works at the intersection of "hard" science fiction and fantasy. In the books of Sverzhin, you can find both historical characters and magicians, sorcerers, trolls and goblins. In creating plots, the writer is greatly helped by knowledge of military history.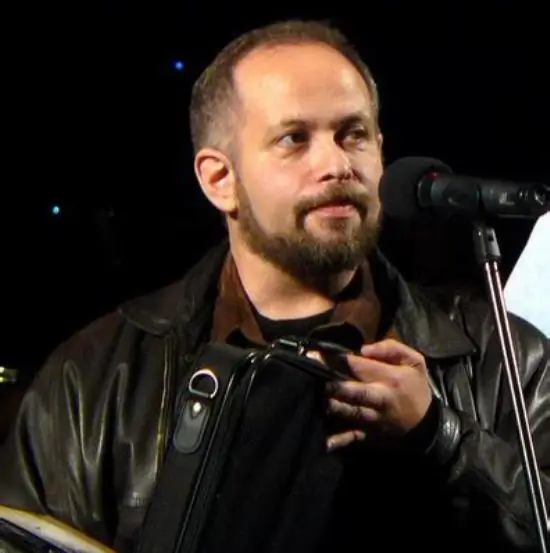 From the biography of Vladimir Igorevich Sverzhin
The future writer was born in Kharkov on February 9, 1965. His real name is Fidelman. The fate of Vladimir was dramatic and abounded with sharp turns. He was expelled from high school in 1981 for "hooligan" behavior. For some time, Vladimir worked at the enterprises of Kharkov. He received his basic education at a school for working youth.
Since childhood, Vladimir was fond of military history, read a lot, was engaged in several types of martial arts, fencing.
When the time came, Sverzhin went to serve in the army. He served in the Baltic Fleet. After completing his military service, he continued his education, entering the history department of Kharkov State University. He took an active part in the political events of the late 80s - early 90s. Vladimir happened to work as a journalist, bodyguard, head of the security service. He was even an expert on heraldry.
The beginning of a literary career
Vladimir Igorevich began his literary career in the spring of 1982 by taking part in a seminar for novice authors at the Kharkov branch of the Writers' Union. From that day on, Sverzhin began to attend a literary studio. While serving in the fleet, senior sergeant Sverzhin was going to be sent to the capital of the USSR to enter the Literary Institute, but for a number of reasons this trip did not take place.
In 1996, one of the publishing houses in Kharkov invited Vladimir to take part in editing the work received there. But the material was so raw that there was no point in processing it. Sverzhin undertook to compose an original text based on the novel and completed this task in a short time. A new science fiction writer was born.
Creativity of Vladimir Sverzhin
A year later, four novels by Vladimir were published, written in the genres of science fiction and detective. Among them: "Chariots of Fortune", "Seeker of Battle", "Unicorn Law". These works constituted a trilogy, which deals with the work of the Institute of Experimental History.
In their spirit and literary peculiarities, Sverzhin's first books are reminiscent of Paul Andersen's cycle about the Time Patrol. The similarities come from a common plot basis, which uses the idea of time travel. To some extent, the Strugatsky brothers with their work "It's Difficult to Be God" can be considered the literary predecessors of Sverzhin.
Sverzhin is fluent in plotting techniques. His books are dynamic and written in good language. The author also has excellent command of historical material. When creating fantastic works, Vladimir is helped by a wide erudition and knowledge of military history. Favorite time of action in the books of Sverzhin is the era of the Crusades.