Actress Nemolyaeva Anastasia became famous thanks to the films "Intergirl", "Courier". Then there was work in the theater, filming in other films. Later, Anastasia Nikolaevna began to design furniture, create jewelry, having succeeded in this area.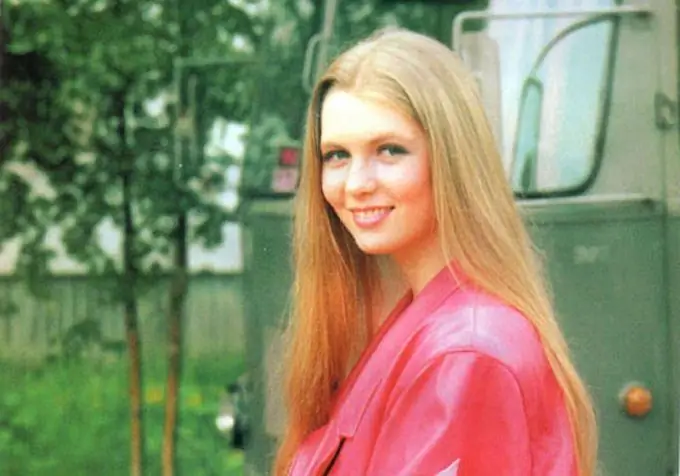 Family, early years
Anastasia Nikolaevna was born on June 30, 1969. Her family lives in Moscow. Many of Anastasia's relatives were related to cinematography: Nastya's father was a cameraman, her grandfather was a director, and her grandmother was a sound engineer. Her aunt, Svetlana Vladimirovna Nemolyaeva is a famous actress.
Nastya's favorite hobbies were needlework and drawing. She painted kitchen boards, made dolls. From the age of 11, she began to appear in films, making her debut in the movie "Old New Year". Then there were filming in other films. Fame came to Nemolyaeva when she played in the movie "Courier" (1986).
After school, Nemolyaeva decided to start her studies at GITIS. She studied on the course of Mark Zakharov, having received a diploma in 1991.
As a student, Nastya starred in the films "Pathfinder", "Time to Fly". She was distinguished by good external data, so she was able to pass screen tests for the role in the movie "Intergirl" (director Petr Todorovsky). The picture was a success, in just 1 year it was watched by over 41 million people.
Creative biography
In the 90s, Nemolyaeva worked in the drama theater on Malaya Bronnaya, played in films. The film "Wife for the head waiter" became successful, where Anastasia got the main role. In the early 90s, she appeared in the film "The Tsaricide" (directed by Shakhnazarov Karen), "Dreams of Russia". In the mid-90s, the actress received invitations to the shooting of the movie "Meshcherskie".
In the theater, Nemolyaeva has not worked since the two thousandth, but she continued to act in films. She played in the movie "Peregon" (directed by Rogozhkin Alexander), "Belly Dance", and some other films. In 2009, the actress appeared in the movie "Crossing".
While still working in the theater, Anastasia became interested in design, began to paint furniture. When the team changed, she decided to engage exclusively in creativity.
Together with her husband, they created their own business. The spouse makes interior items, and Anastasia paints them. She also makes dolls, beautiful decorations from wood, glass and panels.
Much of what the spouses make can be seen in some of the world's galleries. Collectors from different countries are willing to buy the items. Several of Nemolyaeva's works are in the Museum of Naive Art. In 2005, Nemolyaeva took part in the art action "Cow Parade".
Personal life
Anastasia Nikolaevna is happily married, her husband was Skalnik Veniamin (Ishijima Tsutomu according to the passport of a citizen of Japan). His ancestors are Japanese. Benjamin - director, was a translator from Japanese.
The couple have three daughters: Evdokia, Efrosinya, Sofia. Their father's surname is Ishijima. All of them, like their father, have dual citizenship.