Julie Delpy is a Franco-American actress, director, screenwriter, producer and musician. She was repeatedly nominated for numerous cinematographic awards: Oscar, Cesar, European Film Academy, MTV, Golden Globe.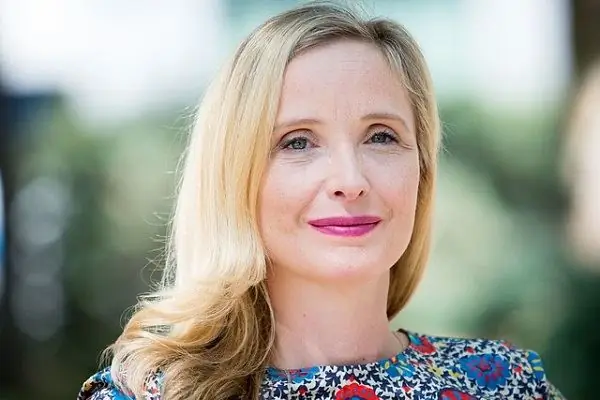 The creative biography of the actress has more than sixty roles in television and film projects. In addition, she is a producer of several of her own projects. She also directed nine films and worked as a screenwriter in eleven films.
In addition to working in cinema, Julie is professionally engaged in music and writes poetry. In 2003 she released a solo album in which she sang songs in French.
Biography facts
The girl was born in France in the winter of 1969, into a theatrical family. Her father and mother were actors, and Julie was passionate about creativity from early childhood.
She constantly attended various exhibitions, went to theater and film premieres, and often attended rehearsals in the theater where her parents worked.
Already at the age of five, the girl played her first role in the play. She was not at all afraid of the audience and felt very confident on stage.
During her school years, Julie constantly participated in performances, playing completely different roles. It seemed that she could transform into anyone. Once the girl even played a major role in Shakespeare's tragedy "Hamlet".
After graduating from school, Delpy continued her education at the University of New York, where she studied not only acting, but also directing.
Film career
Already in her school years, Julie first performed a small role in the film "Detective", directed by the famous Jean-Luc Godard. Although the girl appeared in the film only in a small episode, working with such a famous master was a huge achievement for her.
A year later, Delpy starred in the drama The Passion for Beatrice, directed by Bertrand Tavernier. Although the girl at that time was only seventeen years old, she perfectly coped with the difficult psychological role of Beatrice.
The plot of the film is set in medieval France. The main character, François de Cortemar, returns home after years of war and captivity. He completely lost faith in people and is not capable of compassion, any feelings. At home, his daughter Beatrice is waiting for him - a beautiful, educated and sophisticated girl who does not yet assume that her father is no longer the person she once loved.
Julie's greatest success was brought by the role in the military-historical drama "Europe, Europe", where she played Leni. The love story of a German girl and a Jewish youth during World War II captivated not only the audience, but also film critics. The film won a Golden Globe and an Oscar nomination.
In her later career as an actress, roles in famous films: "Three colors: Blue", "Three colors: White", "Three colors: Red", "Kill Zoe", "Wanderer".
After moving from France to the United States, the actress began acting in American films and directing.
She shot several of her own pictures, the most famous of which were: "The Countess", "Vacations at Sea", "Two Days in Paris", "Mama's Son".
In 2019, Delpy's new work, "My Zoe", is to be released, where she acted as a producer and director.
Personal life
Julie is not officially married. Since 2007, she has been living in a civil marriage with composer Mark Streitenfeld. In 2009, the couple had a son, whom they named Leo.