Praising drugs, promoting same-sex love, unbridled dancing, insulting the feelings of believers, a lot of sex - and all this at an altitude of ten thousand meters! May 23, 2013 in the Russian box office by some miracle started a picture of the Spanish director Pedro Almodovar entitled "I am very excited."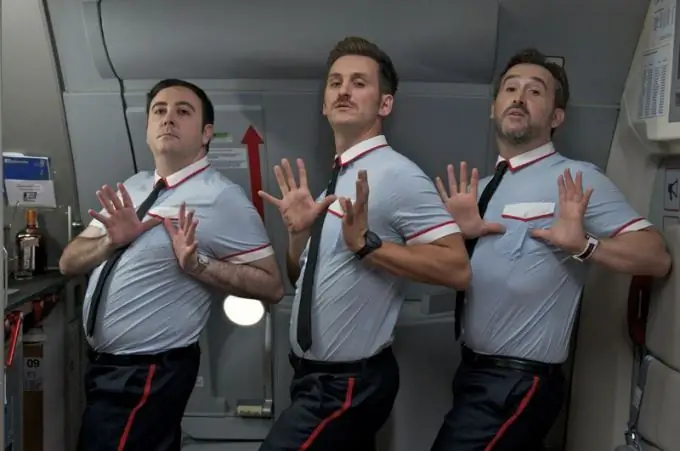 After a series of rather gloomy and psychologically dramatic films, in particular, "The Skin I Live in" and "Open Embraces", Pedro Almodovara decided to unwind by filming a light and literally airy comedy. As usual, the script was written by him. The plot does not shine with special originality. But he is overwhelmed with black humor and sarcasm.
It would seem that an ordinary flight - the airliner makes a flight on the route Spain - Mexico. Nothing bodes well, but according to the law of the genre, after a while the plane had a problem - one of its landing gear turned out to be faulty and the board began to cut circles over Toledo, waiting for a free lane at the nearest airport to make an emergency landing. Flight attendants and economy class passengers fell asleep under the influence of a dose of muscle relaxants, but business class passengers and three stewards could not sleep. It is around them, as well as a very non-standard crew in all respects, that situations and stories will spin in the spirit of Almodovar.
The film lacks the special effects that are usually stuffed with American films. The whole isal is in the characters, their relationships, jokes and dialogues. Penelope Cruz herself and Antonio Banderas take part in the film. True, they flicker only at the very beginning of the comedy. However, even without them, this film has someone to look at. Carlos Areres, Javier Camara, Antonio de La Torro and Lola Duenas are the four main actors behind the whole comedy. They played this story so harmoniously and cheerfully that one can believe in it unconditionally.
The highlight of the film is an episode in which three gay stewards try to calm passengers down by dancing to the song The Pointer Sisters - I`m so excited. The refinement of their movements makes the episode bright and insanely funny.
Many film critics agree that Almodovar wrote and directed one of the best comedies of 2013. He returned to the comedy genre that made him famous, and with renewed vigor "spiked" his Spain, ironically and quite simply describing all its problems. This film will undoubtedly find its audience.