Long gone are the days when only criminals and adventurers aspired to America, or the New World, as the Europeans called the country. For many decades, the United States of America has been one of the most attractive destinations for immigrants. However, although the United States is called a "country of equal opportunities" and a "melting pot", it is very difficult to find yourself in this pot and take advantage of those opportunities. Given the inexhaustible influx of people wishing to move to permanent residence, the US authorities have restricted entry, setting strict selection criteria. However, you can try your luck to get the coveted green card - a pass to North America.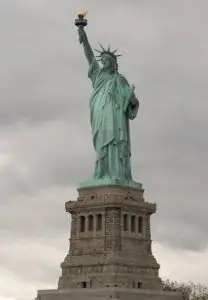 Instructions
Step 1
If you want to move to America, but you have no relatives there or a good reason to live in this country, you can try to play the lottery. For two decades, the United States government has provided the opportunity to obtain a green card (American residence permit) by lottery. To do this, you need to fill out an application on the official lottery website - https://dvlottery.state.gov. Please note that applications are being recruited two years ahead. In order to become a participant in the lottery, you need to have completed school education and attach scanned color photographs of all members of your family who apply to move to the United States to the electronic application form. Children over the age of 21 must complete the application separately from you
Step 2
You can legally move to the United States and obtain resident status if your parents, siblings and / or spouse live in the States. To do this, your relative must be a citizen or permanent resident of the United States in order to arrange sponsorship for you. He also needs to provide documents confirming his material viability. Because, by law, if necessary, a relative will have to provide you with financial support in the amount of 125% of the poverty benefit. If your relative meets all the criteria, and can also document your relationship with him, he needs to write a petition to the Immigration and Naturalization Service at the place of residence.
Step 3
You can also move to the United States with a work visa. However, you will not be considered an immigrant, and your period of residence in the United States will end in a maximum of six years. In order to obtain a work visa, you need to have at least a bachelor's degree (graduate from a higher educational institution), work experience in the specialty and a license. And most importantly - an invitation from an employer from the United States. Also, before submitting a petition for a work visa, you must pass a certification for professional suitability.
Step 4
The bride visa entitles you to stay in the States as the wife of a US citizen. Provided that within 90 days from the date of entry into the territory of the States as a bride, you enter into a legal marriage with the groom. In order to obtain a bride visa, your groom will need to write a petition to the Immigration and Naturalization Service, and attach to it documentary evidence of your connection (photos, letters, tickets from trips to each other). Then both of you will be invited for an interview. The bride will have to undergo a medical examination for the detection of AIDS, tuberculosis, cancer and pregnancy. And the groom - to prove that he can act as a sponsor and has savings in the bank, or an income of 14 thousand dollars.