Translated from Sanskrit, karma means "deed". This is one of the main concepts in Indian philosophy and religion, the natural law of justice, which can be described by the proverb "You reap what you sow." According to him, everything that happens to a person is determined by cause-and-effect relationships: righteous or sinful behavior affects the fate of a person, forcing him to experience pain or pleasure in the future.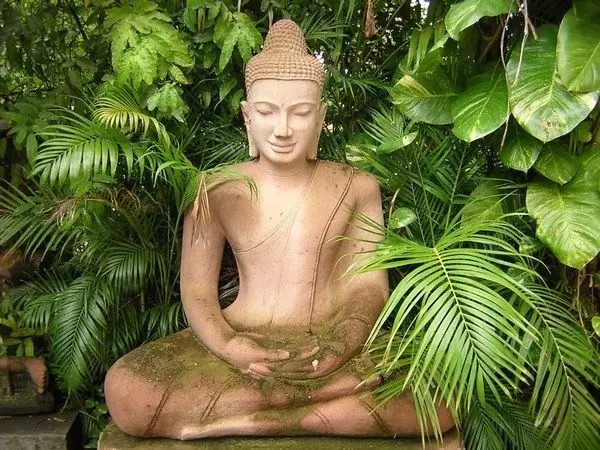 Instructions
Step 1
In Indian philosophy, karma is the result of the destinies of all previous incarnations of a person. If in past lives many sins were committed, then in a new birth she makes her suffer in order to cleanse the soul of their heaviness. For the very first time, every being, according to Indian belief, appears with pure karma in order to know wisdom. But often, instead, it gives itself up to delusions and pleasures, which next time will lead to suffering, anxiety and trials. Their goal is to make a person come to their senses. This happens until the soul goes through the required amount of suffering in order to realize the principles of righteous existence.
Step 2
Karma often causes a repetition of certain situations with a person, forcing him to go through the same trials so that he can learn from them. For example, a pugnacious person constantly gets into fights, even when at first glance he wants to live peacefully. To get rid of this, he needs to change himself.
Step 3
In Indian philosophy, the master of life is not a higher power, but the soul itself. A person builds his destiny with the help of three directions: actions, thinking and feelings. For example, if you think about good, then the power of thought spreads around, evokes good deeds and pleasant feelings. Evil thoughts not only make you experience negative feelings, but also overload karma and clothe you with suffering in the future.
Step 4
There are four types of karma: sanchita, prarabdha, kriyamana, agama. The first is the sum of all other types of karma, all the deeds done. Prarabdha is the part of sanchita that will be experienced by the being in his present incarnation. No one can experience all karma at once in one life - only part of it ripens for action. The third type - kriyamana - is the current actions of a person. Unlike the two previous ones, which have already taken shape and cannot be canceled, this karma makes it possible to create and choose your destiny. And the last - agama - these are actions that will be performed in the future. The plans and thoughts of a person also work for karma.