A large number of rock festivals are held in Russia, to which thousands of spectators flock to listen to the music of their favorite performers. However, only one rock festival can be considered the largest in its mass character not only in Russia, but also in Europe. This event has been held for several years in the Samara region.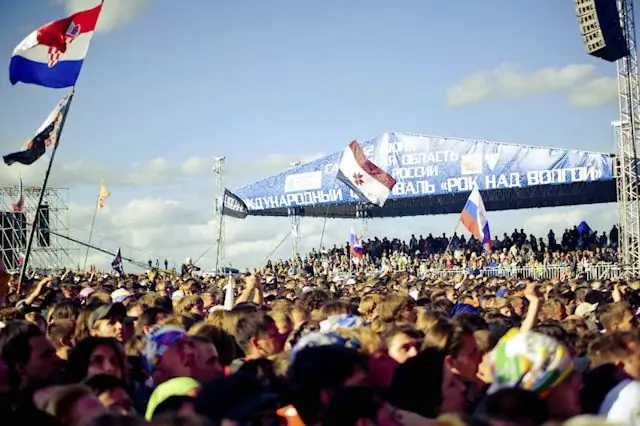 The largest rock festival in Russia is Rock over the Volga. Despite the fact that it appeared relatively recently - only in 2009, the festival has already managed to inscribe itself in the history of the world music entertainment industry, as one of the largest not only in Russia, but also in Europe. It was first organized for the Day of Russia in 2009. It was held in the Samara region, where it continues to this day.
Since 2012, the festival has been held in a field near the village of Petra-Dubrava. Each year the festival sets new records for its numbers. If in the first 2009 the event was attended by 160,000 people, which in itself is not small, then in 2013 the number of people who came to the festival exceeded 700,000 people. Therefore, this event can be called not only the largest in Russia, but also the largest rock festival in Europe.
The connection of this event with the Day of Russia is inseparable. Therefore, it is organized during this period. If earlier the capital festivals, for example, "Invasion", were considered the most popular and largest domestic rock music festivals, today "Rock over the Volga" confidently holds the championship. Musicians and rock music lovers come here not only from different regions of the country, but also from the CIS countries, near and far abroad. Many well-known world-renowned musical groups performed on the Volga field. Among them are not only representatives of Russian rock, but also of world foreign classics. For example, Apocalyptica, Deep Purple, Limp Bizkit, Rammstein.