"President Lincoln: The Vampire Hunter" is one of the most high-profile premieres of the summer of 2012. The absurd name, the joint work of American and Russian producers and, of course, 3D effects guaranteed the film good box office receipts both in the USA and in Russia.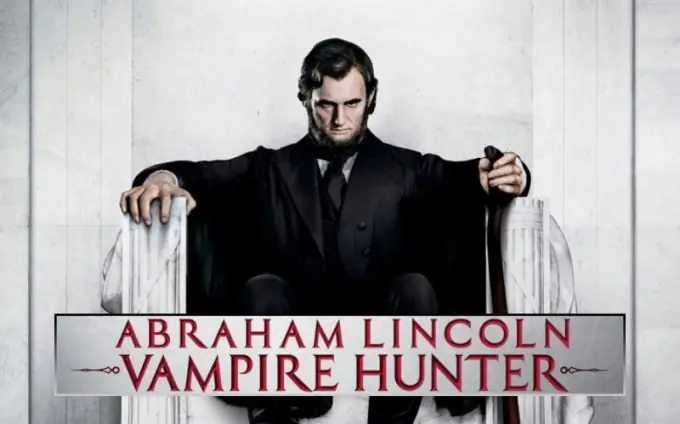 After the resounding success of "Twilight" and the series "True Blood", based on a vampire theme, the release of the next blockbuster about the fight against blood-sucking monsters is not surprising. The plot of the film is based on the novel of the same name by the American writer Seth Graham-Smith, which appeared on the shelves of bookstores in 2010. The main character of the film becomes a real character - the sixteenth president of the United States of America, Abraham Lincoln. The filmmakers present Lincoln as a man with a secret - he devotes his free time from political affairs to hunting vampires.
For the first time, the shooting of the film "President Lincoln: The Vampire Hunter" was announced in March 2010, when the American director and producer and our Timur Bekmambetov acquired the rights to shoot a film based on the famous bestseller. Timur Bekmambetov has good experience in the production of fantastic blockbusters behind his back. He is familiar to Russian viewers first of all from the films "Night Watch" and "Day Watch".
Filming began in March 2011 in Louisiana. The main role of Abraham Lincoln was given to the young American actor Benjamin Walker, who before this film more often shone on the stage than on the big screen. It is worth noting that such eminent actors as Adrian Brody and Josh Lucas also claimed the role of the beloved American president. Other roles in the film were played by Rufus Sewell, Mary Elizabeth Winstead, Dominic Cooper and Alan Tudik.
The rights to the film, with a budget of over $ 69 million, went to 20th Century Fox. Following the latest fashion, the blockbuster "President Lincoln: The Vampire Hunter" was released in the popular 3D format with special 3D effects. The world premiere of the film took place on June 20, and the fantastic thriller was released on Russian screens the next day. Critics took the film rather coldly, accusing it of grotesque and uncomplicated storyline. However, if you are a fan of expensive special effects and 3D glasses, then you will undoubtedly enjoy this new creation by Timur Bekmambetov.