The girls from Pussy Riot have gained notoriety around the world for their punk prayer at the Cathedral of Christ the Savior on February 21, 2012. Until that day, the members of the feminist rock group had repeatedly carried out various kinds of protests in the most unexpected places - in the metro, in the zoological museum, on Red Square, on the roof of a trolleybus, etc. But three of them were brought to criminal responsibility precisely after speaking in the church.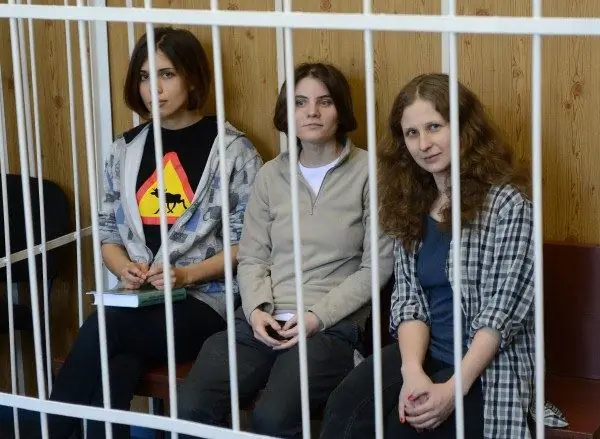 Nadezhda Tolokonnikova, Maria Alekhina and Yekaterina Samutsevich are now under arrest and face up to seven years in prison. Many world stars, such as Danny DeVito, Sting, Adam Horowitz, Patti Smith, as well as members of the Red Hot Chili Peppers, The Who, Pet Shop Boys and others, advocate for the girls. Hollywood star Danny DeVito appealed to the President of the Russian Federation in his microblog on Twitter with a request to release the participants of the punk prayer.
American rock and pop star Patti Smith appeared on stage at one of her concerts in Oslo wearing a T-shirt with the inscription "Freedom for Pussy Riot" on the chest. She told the public that she did not see the girls' fault in what happened and that the insolence of feminists can be justified by their youth, self-confidence and beauty.
British rock musicians wrote an open letter in support of Pussy Riot, which was published in the newspaper The Times. This letter was signed by Neil Tenant (Pet Shop Boys), Jarvis Coker (Pulp), Pete Townsend (The Who) and others. This action was timed to coincide with the visit of the President of the Russian Federation to London. In the letter, the musicians directly address Vladimir Vladimirovich Putin with a request to make sure that the trial over the girls is legal.
British writer and actor Stephen Fry has also called for the release of Pussy Riot members. On Twitter, he urged everyone to do their best to help the girls.
Prominent British musician Peter Gabriel has addressed his letter to the accused members of Pussy Riot. He called on the girls to pray and expressed the hope that everything will end well.
The release of Ekaterina Samutsevich, Nadezhda Tolokonnikova and Maria Alekhina was also supported by the German singer Nina Hagen, the English musician Mark Almond and the singer from Finland Iiro Rantala. In protest against the arrest of the Pussy Riot members, the Finnish singer even canceled her concerts in Moscow.
A letter against the criminal prosecution of the Pussy Riot participants was also signed by about two hundred Russian cultural figures - actors, directors, writers and musicians. Among them: Yuri Shevchuk, Fedor Bondarchuk, Mikhail Efremov, Eldar Ryazanov, Chulpan Khamatova, Diana Arbenina, Evgenia Dobrovolskaya and others.