How does it feel to be recognized throughout the country when you are only 15 years old? Alisa Kozhikina knows the answer to this question for sure. Despite such a young age, the girl remains true to herself and "star fever" is clearly not about her.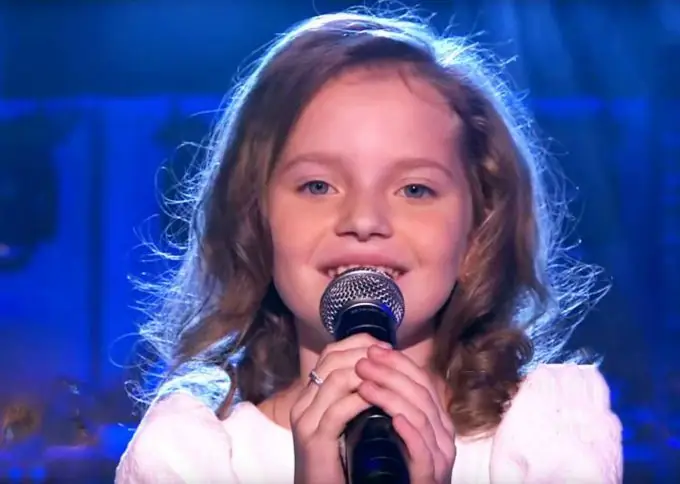 Talent from an early age
Alisa Alekseevna Kozhikina saw the light on June 22, 2003 in the small village of Uspenka, which is located in the Kursk region. Little is known about the girl's family. Also, there is no information about whether she is the only child in the family.
There is only information that her mother Anna instilled love for music in Alice. The woman often played the piano, while little Alice, as if spellbound, listened to the play performed by her mother.
So already from the age of four, Alice began to closely study vocals in a local pop circle. At the age of 6, Kozhikina begins to go to a music school, where she studies piano. In addition, the girl does not leave her vocal lessons. Alice's extraordinary abilities led to the fact that by the end of the second year of study at a music school, she could easily perform the program of grades 5-6.
"New Wave" and "Voice"
A talent of this level simply could not be left only in the classroom at a music school. Therefore, by the age of 10, the girl had already managed to take part in a number of competitions, which brought her not only first places, but also even greater popularity. In 2012, she was selected for the international competition "Children's New Wave", where she represented Russia. In this vocal competition of young performers, the girl did not manage to take a prize, but the very opportunity to be one of those who represent the whole country was already a great achievement for 9-year-old Alice.
After "Children's New Wave" she had a chance to perform on the same stage with such artists as Mitya Fomin, the Serebro group, Potap and Nastya Kamenskikh.
When Alice was 10 years old, the whole family moved to a new place of residence - to the city of Sosnovy Bor (which is 68 kilometers from St. Petersburg).
In the spring of 2014, Channel One launched the show "Voice. Children", which was attended by Alisa Kozhikina. The girl got into the team of Maxim Fadeev. Hard work on myself was not long in coming. Alice became the winner of the rating vocal show, which made her even more famous. Since then, millions of people have become interested in the girl's biography.
Life without "Voice"
After such a triumph, Alice became a sought-after young performer. In November 2014, she was honored to once again represent her country at an international vocal competition. True, this time a larger scale was waiting for her - "Junior Eurovision", in which Kozhikina took fifth place.
Later, she entered into an agreement with Maxim Fadeev that she would cooperate with him for the next 10 years. However, a year later she left her mentor, as the girl's parents insisted that she focus on getting an education.
And yet, no matter how hard you try, nothing can stop a person's creative impulse. Alice began to collaborate with another composer, who helped her write and release her debut album "I am not a toy", consisting of 14 compositions. The album became public on November 1, 2016 and received good reviews from Kozhikina's fans. And the video for the title song of the album has already collected more than 59 million views.
Shortly before that, in May 2016, the girl had her debut solo concert in Belgorod, and already on December 2, she gathered a full hall of the Colosseum Arena in the northern capital of the country.
On October 1, 2018, the release of the second solo album entitled "You are with me" took place.
Apparently, 15-year-old Alice does not even think of leaving her musician career. This is understandable, because the multi-million army of fans simply will not let her do this.