Soviet musical culture is luxurious and diverse. Whoever heard a musician like David Oistrakh could get real pleasure from music.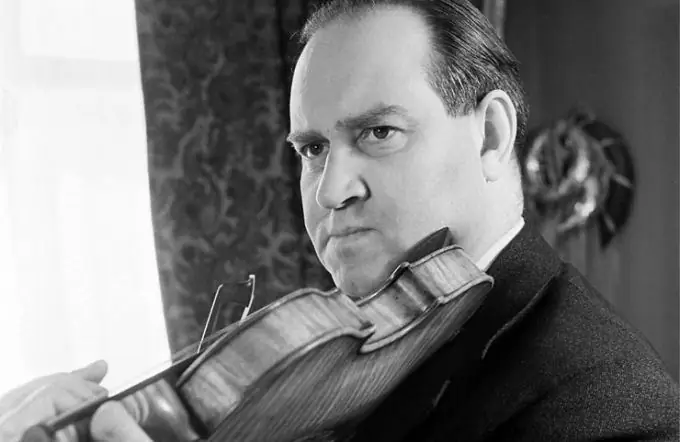 Biography
The greatest violinist and conductor of the Soviet Union David Fishelevich Oistrakh was born in Odessa-mother on September 17, 1908. He grew up in the family of an employee Fishel Davidovich and a chorus girl of the local opera house Isabella Oistrakh.
Music from childhood captured the heart of the young maestro, and already at the age of five he began to learn to play the violin under the then teacher Pyotr Solomonovich Stolyarovsky. Having acquired the necessary skills and knowledge from his teacher, Oistrakh entered the Odessa Music Institute in 1923 and graduated in 1926.
During his studies, he received the necessary practice for a musician: he performed as a soloist in the Odessa Symphony Orchestra, and also acted as a conductor; gained experience from the famous composer N. N. Vilensky.
During the war years, David Fishelevich played classical music concerts in many places where art and something beautiful were so lacking. His symphonies played brought a sense of peace, which was almost unknown to Soviet people.
After the war, "King David", as he was called in the musical society for his unsurpassed talent as a violinist, began performing in the liberated countries. The musician was everywhere welcomed and admired for his talent. He was awarded prestigious awards in different parts of the world and was a true internationalist. His heart stopped in the Netherlands on October 24, 1974, after a short period of time, after a magnificently played concert in Amsterdam.
Career
There is no account of awards that could describe all the titles received by "King David." Immediately after moving to Moscow, victories and successes rained down on him: becoming a professional as a soloist and conductor of the Moscow Philharmonic; victory in the All-Union competition of performers, etc. Oistrakh's work gained worldwide fame after taking the Eugene Ysaye competition.
In 1934 he began teaching at the Moscow Conservatory. After the war, David Fedorovich began to take an active part in the musical life of the Soviet Union, giving frequent concerts and solo performances. He also became a permanent member of the jury at the Tchaikovsky Competition in the violin nomination.
Personal life
David married pianist Tamara Rotareva while still in his hometown. Together they moved to Moscow in 1928. But at first it was difficult with money, so Oistrakh had to perform with a singer fashionable at that time, because there were critically few solo concerts. His wife had to bake pies and sell them in the local market in order to somehow earn an extra penny.
In 1931, a replenishment happened in their family - a beloved child and another great musician Igor Oistrakh were born. In the future, she and her father will represent one of the brightest duets in the world. In addition, David Fishelevich was an avid chess player, had the first rank in this sport, and also conducted simulcast sessions.