The art of making plaster sculptures is experiencing a new birth, having moved from professional workshops to the kitchens of ordinary people who independently master plaster molding. Gypsum is a natural material, environmentally friendly and noble. Do-it-yourself plaster molding will not only reveal your creativity, but also forever transform the interior of your home.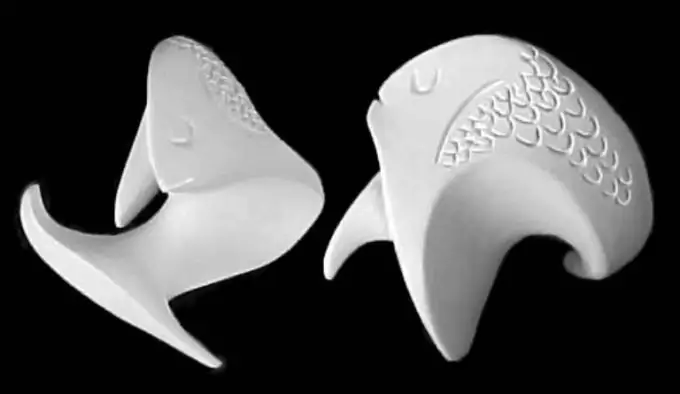 It is necessary
- gypsum;
- a board with a flat surface (or several tiles);
- a container for diluting the solution;
- water;
- soap;
- vegetable oil;
- plasticine;
- thin copper foil or food parchment;
- knife or sandpaper;
- pencil or pen;
- brush;
- flat scapula;
- furniture varnish.
Instructions
Step 1
Start by making a plasticine sculptural sketch. This is the model you will use to create the plaster piece. Plasticine belongs to soft materials and easily changes shape. Knead it in the palms of your hands, and then shape it to the desired shape. Work on a smooth board that should be several times wider than your future product.
Step 2
With a knife, mark a line on the plasticine along which the figure will be cut. Press in pieces of foil or parchment along the line. He does this carefully so as not to damage the shape of the product. It is more convenient to press in foil and parchment not with your hands, but with the back of a pencil or pen.
Step 3
Prepare a lubricant to help separate the mold from the casting. The lubricant can be an emulsion consisting of soap, vegetable oil and water, mixed in a ratio of 2: 1: 7, taken by weight. A solution of stearin or paraffin in kerosene can also be used as a lubricant. Lubricate the plasticine figure.
Step 4
Mix gypsum: dilute it with water until the concentration is not too thick sour cream. Cover the clay with a layer of a few millimeters. Apply the solution with a brush or flat trowel. Avoid bubbling.
Step 5
Apply several coats of plaster for added strength. Remember that the next coat should be applied after the previous one has hardened.
Step 6
Remove the plaster mold when the product is completely cured. This will happen no earlier than half an hour after the end of work. The more layers you apply, the longer the gypsum will dry. You can check if the form is dry by knocking on it. The finished product will ring.
Step 7
Touch up any small roughness with a knife or sandpaper. From the inside, fill it with furniture varnish. The finished plaster sculpture can become an independent work or used itself as a mold for casting other products.