As soon as this holiday is not called: and "Pancake", and "Maslenaya week", and "Obedukha", and "Milk week". But, no matter how dignified "Maslenitsa", it has always been and remains the main holiday of spring among the Slavic peoples.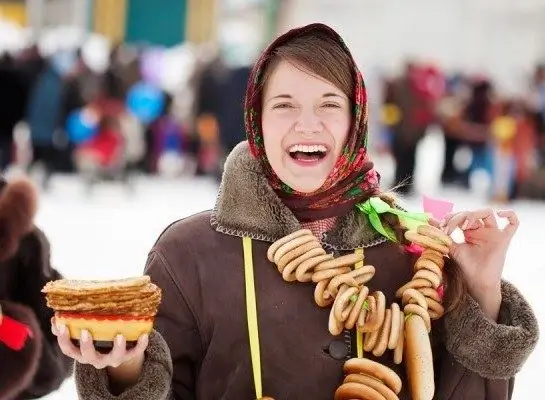 Second New Year
Shrovetide at all times was the time of the vernal equinox, the time when all nature comes to life and wakes up. The rituals and traditions associated with Maslenitsa originate in the pre-Christian period. The ritual side of this celebration includes the shades of the culture of the ancestors, it also correlates with the transitional period of nature, when everything comes to life and carries the function of stimulating fertility. This is due to the fact that Maslenitsa always preceded the beginning of field work. Also, Shrovetide week precedes the beginning of Lent, during which believers do not consume dairy products. And on Shrovetide it is allowed, hence the name. Folk festivities on Shrovetide, the burning of an effigy symbolizing winter, visiting parties, all kinds of fun, fortune-telling, and, well, where without Shrovetide pancakes have become a special tradition.
Burning annoying winter
Now, like many years ago, a scarecrow remains one of the main symbols of Maslenitsa. It personifies winter, which is time to go home by this time and give way to spring. Usually men, women and children from the whole village collected straw in one place, and then made a doll out of it, dressed it in women's clothes, but brighter. They tied a scarf on the head of the stuffed animal, put on a skirt, a jacket, and took it in a sleigh all over the village. Then they burned it, throwing it into the fire and pancakes. Around the bonfire, the kids danced and danced in round dances. This glorious rite has survived to this day and attracts residents of both small villages and large cities to participate.
Games and contests
The ice pillar is a competition held on Shrovetide. For him, some tall pillar is poured with cold water and gifts are hung at a sufficient distance from the ground. To get them, you need to climb onto this post and not slide off it. The strongest and most persistent always win.
Another popular pastime is throwing felt boots. Of course, it's best to do it outdoors. The essence of the game is simple: you need to throw the felt boot as far and accurately as possible.
Children love this Golden Gates game. For her, two of the players (these may be adults) stand in the center, holding hands and lifting them up so that a gate is obtained. The kids become a "train" one after another and go through the gate. At some point, the gates "close", that is, the adults give up and catch one of the children. The one who is caught also becomes the gate and the "locomotive" decreases. The game goes on until the gate catches everyone.