For many believers, parishioners of one church, the rector of this church truly becomes more than just a priest or spiritual father. The priest's cross is heavy, it is a martyr's service that requires dedication. Therefore, it is not surprising that the faithful parishioners wish to thank and congratulate their priest. How to congratulate the holy father correctly so as not to displease him and not violate church canons?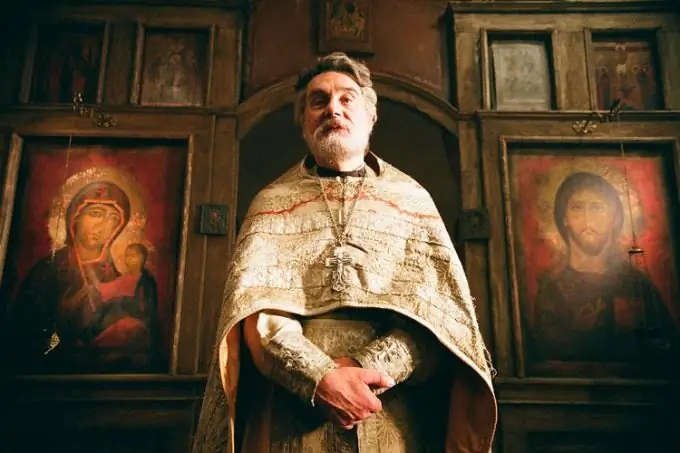 Instructions
Step 1
If there is a children's Sunday school at the church, together with its students, you can come up with a theatrical performance - congratulating the priest on the day of the Angel. Participants: presenter (older child, 13-14 years old), two travelers (children 10 years old), a girl (8 years old) and one adult who will play an Angel. The script plays out the story of a traveler who carried a heavy burden, patience, carried without murmuring, for which he was rewarded by the fact that the Lord provided him with an Angel who would come to his aid in difficult times. You can end the performance by addressing the Angel: - "Guardian Angel, keep the father! Prolong, Vladyka, Father's days!"
Step 2
You can also congratulate Happy Angel Day by presenting a homemade postcard. You will need a sheet of colored cardboard, for example, blue, colored paper to create an angel figurine, PVA glue and colored paper of the desired color, draw the details of the angel figurine, cut out, paste on the background. Draw a star with the silver in the corner of the card. On the back of the card, write warm words, wishes for health, longevity and patience. Such postcards have traditionally been kept in the families of clergymen for years.
Step 3
A self-embroidered icon is an excellent gift for the priest, however, such a gift will require a lot of time, effort and patience from the donor. You can embroider an icon with the face of the patron saint of the priest. To do this, you will need multi-colored floss threads, a canvas and an embroidery pattern. You can do it yourself, having previously studied the original icon.
Step 4
Among the appropriate gifts, one can also name various dishes with the image of the patron saint of the priest, oils, incense, holy water, spiritual literature, and particles of relics brought from holy places. The Holy Father can also be gifted with quite everyday things, for example, a piece of fabric for a cassock or a cassock. With the approval of the priest, you can donate church utensils or flowers. But remember, whatever the gift may be, the most important thing is sincere words coming from the very heart that accompany it!