Irina Muromtseva is a famous Russian TV presenter, journalist, producer. She is a charming, open and positive person, which is what the viewers fell in love with. Irina works on federal channels and hosted programs such as Good Morning and Park Kultury.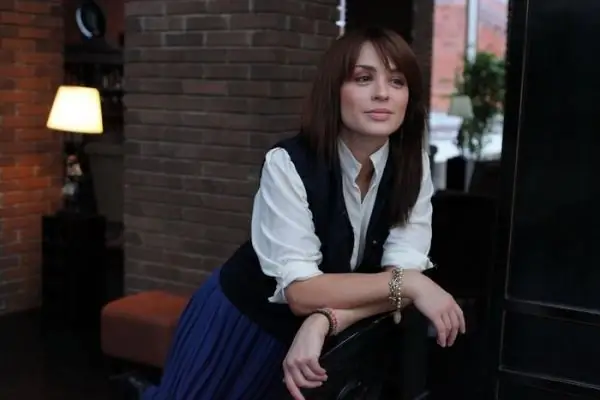 Biography
The star of Russian television was born in St. Petersburg in 1978. Her father was a military man. She was a very open, smiling and kind girl. From early childhood, she wanted to become a famous Moscow actress. Her parents were wary of this dream - they were afraid that life in the capital was dangerous for their young daughter.
Irina Muromtseva graduated from school in Bryansk. At the insistence of her father, she entered the Faculty of Journalism in Voronezh. She did not forget about her dream. Three years later, she transferred to the correspondence department and went to conquer Moscow.
Career
The frantic pace of life in the capital gave Irina the necessary impetus for self-development. She did not relax for a second and was constantly working on herself. The journalist herself admits that it was that period that helped her find her place in the cruel world of television.
Two years later, Irina became a presenter at the radio station. She did not stay there for long and soon moved on to work for NTV. She had to work hard on herself and get used to the camera.
The next rung of the career ladder turned out to be creative and interesting. Irina Viktorovna received an invitation to work in the "Old TV" program. The woman's task was to create sketches about famous personalities of past centuries. She liked the work, and she was passionate about preparing for each issue.
In the 2000s, Muromtseva decided to try herself in producing. Together with colleagues in the television workshop, she began to work on "Hero of the Day". After that there was a small gap in his career due to going on maternity leave. Returning to work, Muromtseva had to take up radio journalism again for a while.
Since 2002, Irina has become the host of the Today program on NTV. Soon she switched to the channel "Russia" and until her second maternity leave was broadcasting "Good morning". In 2015, the TV presenter received a tempting offer from Channel One and left without hesitation. On the day of her dismissal, Muromtseva got herself a tattoo. In 2016, Irina began to host the Good Morning show. A year later, she was offered to act as the host of the Cannes Lions awards ceremony.
Personal life
Irina Viktorovna does not like to talk about her first and short marriage. To a wider audience, the fact that a man was engaged in entrepreneurial activity. The TV presenter gave birth to a daughter, Love, and raised her alone.
Irina Muromtseva's second marriage was more successful. In 2012, she married Maxim Volkov, a famous Russian music producer. A year later, the couple had a daughter. The woman hid her pregnancy for a long time and even in the last stages participated in the filming.