Singer Tatyana Tereshina knows how to tickle the nerves of both her fans and her ill-wishers. For some she is a successful singer and a beautiful woman, for others she is another "star" and a hunter for wealthy men. Yes, Tatiana knows how to be different, and this is the secret of her popularity.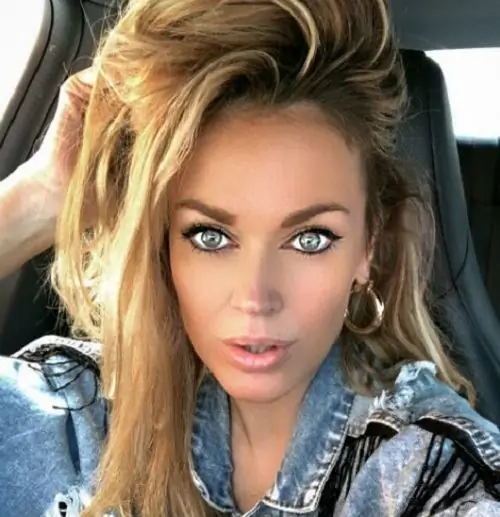 All PR life
Tatyana Tereshina is a vivid example of how you can achieve your goal if suddenly the former glory has temporarily faded. In order not to be forgotten about you, any scandal and provocation will do - infidelity, young lovers, frank filming. Tatiana is not afraid to sell her beauty in the media sense of the word. To star in a candid video or appear on the cover of a men's magazine? Tereshina will choose both options. But here we must pay tribute to the singer - she looks good, dresses stylishly and is always aware of fashion trends.
Tatyana Tereshina began her career in a modeling agency, despite the fact that her height is 169cm. But the naturally photogenic girl turned out great on the pages of magazines and catalogs. The chiseled figurine, the upturned nose and huge eyes worked flawlessly on men. Tatiana is credited with a huge number of novels, although many of them were just for PR.
From model to singer
Musical Olympus attracted the girl from childhood. Tereshina was born in Budapest in 1979 in a military family, so later her parents often moved from place to place. Finally, the family settled only in Smolensk after 13 years. After leaving school, Tanya entered the Smolensk Institute of Arts, where she studied painting. During her school years, the girl was engaged in ballroom dancing and studied at a music school.
This knowledge came in handy when she moved to Moscow. Already working as a model, Tereshina enters the casting of the soloist in the "Hi-Fi" group, and she is chosen from hundreds of applicants. As part of the group, Tanya performed for almost four years - it was the stellar period of the team. During her work in the group, rumors about the singer's romance with Mitya Fomin did not subside. However, Tatyana herself at this time met with the millionaire Arseny Sharov.
A new round of rumors and speculation appeared after Tereshina announced that she was leaving the Hi-Fi group and began her solo career as a singer. The team was unhappy with the girl's decision to leave the group at the peak of fame. But Tatyana was already burning with the idea of becoming an independent singer. The clip "Debris of Feelings" became the very start, which the girl lacked so much. The famous rapper Noize MC wrote the lyrics and music for Tereshenoy, the Finnish director Hindrek Maasik shot a sensual video. It was a bomb! After that, Tereshina's career went uphill, even if sometimes with varying success.
The singer's personal life was also bright. Her romance with DJ Slava Nikitin lasted 7 years and ended with the birth of her daughter Iris. The couple still periodically sort things out. After a series of short novels in September 2018, Tatyana, unexpectedly for everyone, marries businessman Oleg Kurbatov. And all would be fine, but the groom is 16 years younger than Tatiana. Although she always liked younger men.