Viewers Nina Pavlovna Grebeshkova is known for her roles in Leonid Gaidai's films "It Can't Be!", "The Diamond Arm", "Prisoner of the Caucasus, or Shurik's New Adventures. For many years she was the wife and muse of the great director.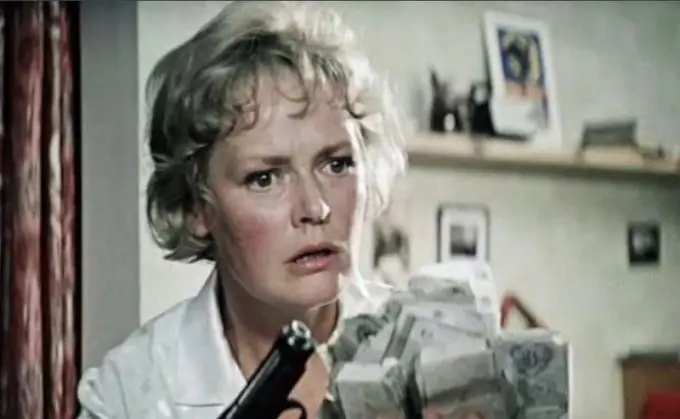 Biography and creative life of Nina Grebeshkova
Nina Pavlovna Grebeshkova was born in Moscow in 1930. She did not even dream of becoming an actress, she wanted to become a primary school teacher, and entered VGIK quite by accident. The girl met her friend's father, the poet V. Lugovsky, who invited her to try herself as an actress. For the company with Masha Lugovskoy, Nina went to take entrance exams at VGIK and entered the first time. The girl got on the course of Gerasimov.
While in her first year, Nina Grebeshkova got her first film role. It was a small episode in the film "Brave People". This was followed by work in the films "Sports honor", "Session of hypnosis", "Honor of a comrade", "Scarlet shoulder straps".
After graduation, she was often invited to act in films, she played young mothers, teachers. She played in the film "Trial of Loyalty" directed by Ivan Pyriev. This was followed by dramatic and comedic roles in the films "Restless Spring", "Star Boy", "Mumu". Grebeshkova has created more than 70 images on the screen.
The Soviet audience really liked the sweet and cheerful artist. But her roles in the films of Leonid Gaidai brought her truly all-Union fame. Young people met at VGIK, and soon got married. For many years, Nina Pavlovna became the muse of the great director. He filmed her in almost all of his works, the only picture in which Nina Pavlovna did not take part was "Ivan Vasilyevich changes his profession."
The very first role of Nina Pavlovna with the director Gaidai was her work in the film story "Thrice Resurrected", then the images of a nurse from a psychiatric hospital in the "Caucasian Captive", a wife in "Diamond Hand", Klavdia Antonovna in "Sportloto-82" and many others followed. These films are loved by several generations of viewers in our country and abroad.
Currently, the actress, despite her advanced age, sometimes continues to appear in films. She starred in Nikolai Lebedev's blockbuster "The Crew", in the film "Kamenskaya-2".
Personal life
Nina Pavlovna Grebeshkova is the widow of the great Soviet director Leonid Gaidai. They met while still students of VGIK. Leonid was 8 years older than Nina and much taller than her, but this did not stop the couple from getting married and happily married for 40 years. All these years Gaidai considered Nina Grebeshkova his muse.
The couple had a daughter, Oksana. She did not follow in the footsteps of her parents, but received an economic education and made a career in this field. Nina Pavlovna has a granddaughter who also became an economist.