According to the rules of etiquette, it is customary for men to give white or red carnations or seasonal flowers. And since in February we have fresh flowers only to decorate the windowsill, there is no choice, and we will have to limit ourselves to carnations.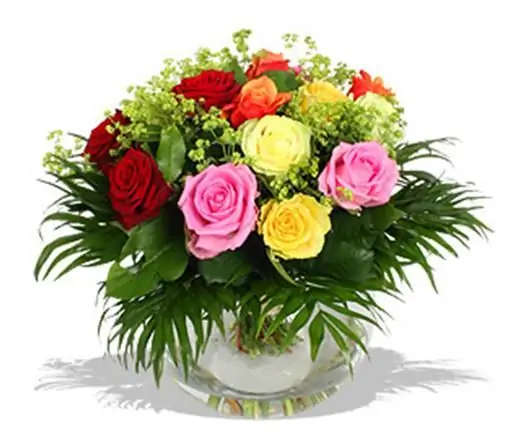 Instructions
Step 1
The color of flowers also has a semantic meaning. White means purity and frankness, bright red is an expression of sincere disposition, pink is neutral, appropriate in any festive setting. Moreover, if you want to make the bouquet solemn, the flowers must be selected of the same color. One of the important details is the number of flowers in the bouquet. A 5 or 7 is considered good form.
Step 2
If we are talking about gift bouquets, we will give the younger generation a few more tips.
If you are invited to a birthday, give flowers first, then a gift. The bouquet will bring joy if it is made up of the favorite flowers of the hero of the occasion. If you don't know this, donate seasonal flowers.
Step 3
You will not be mistaken if you present a girl or a young woman with a bouquet of pink or red roses, freesia, lily, gerbera, orchid, a lady - open roses, and a man - carnations, bright gladioli, dahlias or red roses. By the way, giving white flowers (chrysanthemums, calla lilies, etc.) to grandmothers is considered bad form, since by tradition they are flowers of mourning and sadness.
Step 4
On Valentine's Day, it is customary to give heart-shaped flower arrangements of red roses (buds or blossoming), red tulips, anemones or red carnations interspersed with white roses, freesias, lilies or white carnations.
On the eve of March 8, many spring flowers will be on sale. They should be presented on this holiday. By the way, mimosa is placed in hot water, while the inflorescences are sprayed with cold water.