Ruslanova Lydia is a legendary singer, her repertoire mainly included Russian folk songs. Her real name was Praskovya Leikina-Gorshenina.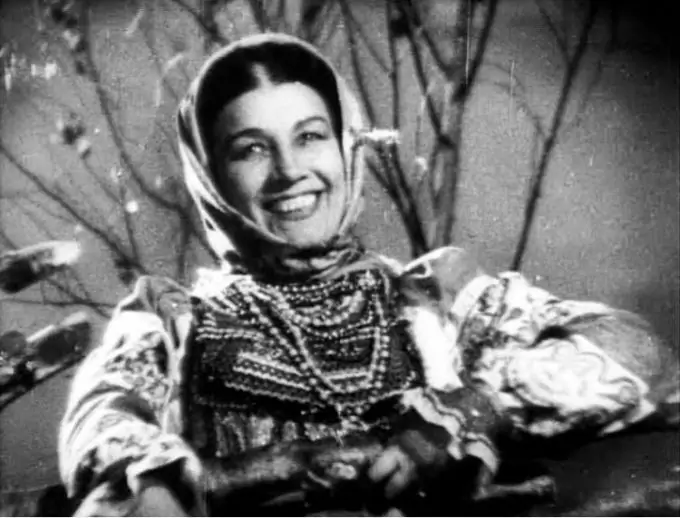 Early years, adolescence
Lydia Andreevna was born on October 27, 1900. The family lived in the village of Chernavka, Saratov region. Parents were peasants, during the war my father went to the front, and his mother died. Lydia was sent to an orphanage. Even then, she sang well, she was invited to sing in the choir at the temple.
Lida attended a parish school, graduated from grade 3. She was taken to the conservatory, but after a while she left her studies. She didn't like doing academic vocals. After the orphanage, Ruslanova was placed as a student at a furniture factory. In 1916, she became a sister of mercy.
Creative career
Ruslanova gave her first concert at the Saratov theater, it happened in 1917. Then there were tours. The singer performed Russian folk songs, which remained in her repertoire.
In civilian service Ruslanova sang for the soldiers. In 1921 she began to live in the capital, she was admitted to the theater "Skomorokhi". In 1923, the artist's solo concert took place, which was a success. The records with her songs became wildly popular.
The singer began to collect stage costumes and a library. She also became interested in collecting antiques, buying luxury items.
During the war, Lydia entered the concert brigade, became extremely popular. During the war, she had 1120 concerts, in 1945 the singer sang at the Reichstag.
In 1947, Lydia and her husband were arrested. They were Zhukov's acquaintances, they were accused of anti-Soviet propaganda. The family was deprived of awards, property was taken away. Ruslanova's songs were banned, the singer was sent to a camp in the Irkutsk region. She also gave concerts there
In 1950, Lydia was sent to Vladimir's prison, where she became friends with Fyodorova Zoya, an actress. In prison, Ruslanova refused to give concerts, for this she was placed in a punishment cell.
In 1953, Lydia and her husband were released after reviewing the case. The health of both was severely compromised. To make money, Ruslanova had to start performing. She remained popular in the 60s. Lilia Andreevna died in 1973, the cause was a heart attack. She was 72 years old.
Personal life
The first husband of Ruslanova Lydia was Stepanov Nikolay, an indentant. They were married in 1916. In 1917, a child appeared who died as an infant. In the same period, her husband left Lydia.
In 1919, she married Naumin Naum, an employee of the Cheka. The marriage lasted 10 years.
In 1929, Mikhail Garkavi, an entertainer, became the husband of Ruslanova Lydia. They lived for 13 years until Ruslanova met Vladimir Kryukov, Major General. They signed, and Kryukov has a daughter, Margarita, from his first marriage.
Vladimir died in 1959. Ruslanova had a hard time going through his death, she never married again.