Released in 2009, the mystical film "The Story of a Vampire" is a film adaptation of the first three parts of the vampire saga, written by Darren Shan. An interesting and captivating story was appreciated by the audience and fans of nosferatu.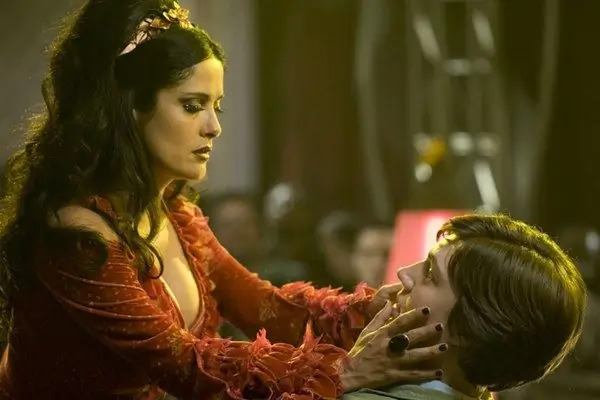 Plot description
One fine evening, an exemplary schoolboy Darren Shan goes with his best friend Steve Leonard to the forbidden freak circus, which has arrived in their town. He loves the performance of one circus performer so much that he steals from him Madame Octa - his spider. This turns into a tragedy - Octa bites Steve and he is dying, as a result of which Darren has to return to the circus and make a deal with the vampire that will help save his friend.
The performances of the circus of freaks are held in the strictest secrecy, so it is impossible to turn to adults for help.
The vampire asks Darren to become a vampire too and start working as his circus assistant. Darren has no choice but to agree - he fulfills the requirements of the circus performer and begins to live in the circus with his other employees. He makes new acquaintances - a reptile guy, a bearded woman, a monkey girl and other freaks. At this time, Steve, desperately jealous of his friend's supernatural powers, finds himself in a very unpleasant story, from which he will have to be rescued by the newly-made vampire.
Making the film and sequel
The Story of a Vampire was directed by Paul Weitz, the creator of such good films as Cool Company and The American Dream. The film about the secretly traveling circus of freaks helped the director demonstrate all his multifaceted talent - he took part in writing an excellent script and successfully assembled the material of the books, kindly provided for the film adaptation by the writer Darren Shan, into a single interesting structure. As a result, Weitz and the crew got a good-quality vampire movie, filmed according to all the canons of the classics and with an open ending.
Despite the average critical acclaim, "The Story of a Vampire" has received a good box office in world cinemas after the DVD release.
To date, reliable information about the continuation of the film has not yet been received from its creators, but there is more than enough material to start new filming - after all, only the first three books of the twelve books of the cycle were taken as the basis for the film. This, as well as the open, ambiguous ending, allows fans to hope for the release of an equally exciting and exciting sequel to The Story of a Vampire, which will show the new adventures of Darren Shan and his amazing freak friends. But it is too early to talk about the date.