Josephine Skriver is a Danish top model who managed to take part in the shows of the most famous designers. Incredibly beautiful girl represents one of the best brands of lingerie "Victoria's Secret".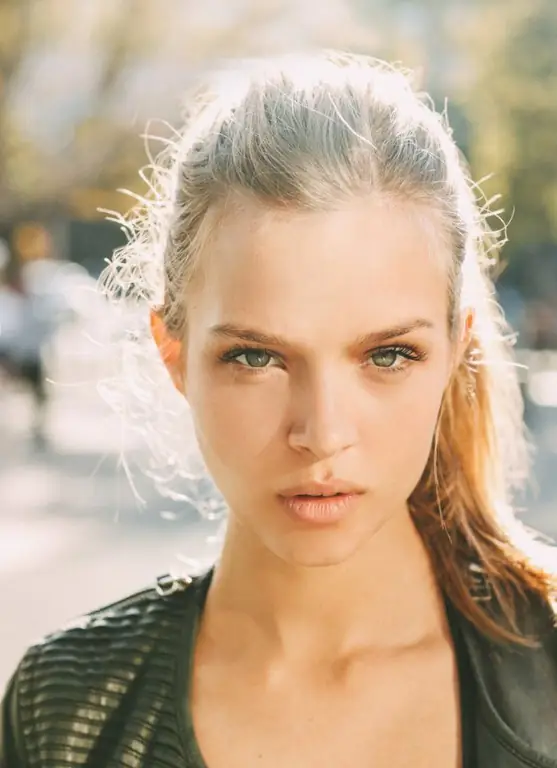 Childhood, adolescence and an unusual family
Josephine Skriver is a famous Danish model. She was born on April 14, 1993 in Copenhagen in a not quite simple family. Her mother worked as an IT analyst, and her father was a biologist by training, and by birth - Dutch. The future model was born thanks to the latest reproductive technologies. At that time, IVF conception was very rare. Josephine's parents are people with non-traditional sexual orientations. Each of them had a same-sex partner, and they met on an ad with the aim of conceiving a child.
Now the popular model does not hide this fact of her biography and even supports LGBT communities. But as a child, it hurt her badly. She had to face real bullying. She was especially attacked before leaving Denmark. In addition to biological ones, Josephine also has "additional parents" - her mother's wife and her father's husband.
Having become famous, Skriver talked more than once about how hard it was for her and her brother to hear ridicule in their address and prove that she is the same person as everyone else. It became especially difficult after the appearance of social networks, where everyone could write something bad on her page or express their opinion.
Modeling career
Josephine Skriver's career began at a very young age, or rather, in infancy. As a toddler, she took part in the filming of diapers. Subsequently, she made her choice of profession on her own. At a young age, she went to New York in order to be able to study at a modeling school. But then the girl returned to Denmark and began to build her career in her native country.
Like many girls in this industry, Josephine began modeling at the age of 15. Her first employer was the Unique Model Agency in Copenhagen. The girl began her career with rare photographs and shows of little-known brands.
In 2011, she first declared herself to the whole world, taking part in shows at New York Fashion Week. Her very first serious work was a fashion show for Calvin Klein. 2011 was a really successful year for the model. She was noticed by famous fashion designers, she became popular and in demand. Fashion houses vied with each other to offer her cooperation. That season she took part in shows of such eminent houses as:
Calvin Klein;
"DKNY";
"Alberta Ferretti",
"Blumarine",
"Dolce & Gabbana",
"Emilio Pucci".
Josephine's success can be easily explained by her excellent external data and very high efficiency. In her interviews, the model has repeatedly admitted that she likes her work, because she gets the opportunity to transform into different images, try and look for herself. Putting on clothes of a completely unusual style for yourself, you can feel like a different person, which is extremely interesting. Josephine assures that the model's work is not as easy as it might seem. These are frequent lack of sleep, heavy loads, stress, lack of free time.
Josephine Skriver is a tall and very slender girl with a wonderful toned figure. But her face deserves no less attention. Beautiful green eyes, chiseled cheekbones - all this attracts attention.
During her modeling career, Skriver has appeared on the covers of the most prestigious magazines. Especially striking were her photographs that adorn the following publications:
Plaza Kvinna (March 2011);
Cover Denmark (June / July 2011);
Eurowoman (June 2012);
Black Magazine (New Zealand, March 2013);
Harper's Bazaar (Latin America, September 2013);
"Elle" (Brazil, January 2014).
In 2016, Josephine received a truly tempting offer that many models dream of. The girl began to represent the brand "Victoria's Secret", or rather, became its "angel". This popular brand produces chic underwear that has an incredibly original design and looks very sexy at the same time.
Models representing "Victoria's Secret" take to the catwalk in lingerie and voluminous wings, for which they are called "angels". Josephine continues to work with the brand and considers it a huge success in her career.
Personal life
Josephine Skriver, unlike some other models, has never been involved in any scandals. She tries not to advertise her personal life and does not let journalists into her. It is known that since 2013 she has been dating Alexander DeLeon. This young man is the lead singer of the popular American rock band "The Cab". This talented musician also participates in other musical projects.
Alexander Deleon and Josephine appear together at all public events. The people around them see their couple as a union of equal partners, each of whom took place in their own business. For the time being, they are reluctant to answer questions about the wedding, or they say that they would like to pay attention to their careers for now.
Josephine's participation in the shows of lingerie collections makes her keep her body in perfect shape. The model not only works a lot, but also does not miss social events, is friends with many famous representatives of the fashion world. On the list of her closest friends are Selena Gomez, Cara Delevingne, Kendall Jenner, Gigi Hadid and other stars.