Recently, the Internet is literally replete with a variety of tests and half-joking programs that allow you to "determine the middle name." Curious users give themselves names that are supposedly "suitable for their spirit", take the names of mythological characters as pseudonyms, and even spell their names into Japanese. However, the only "real" middle name that is given to a person and is registered in official documents is the name that is given to a person at baptism.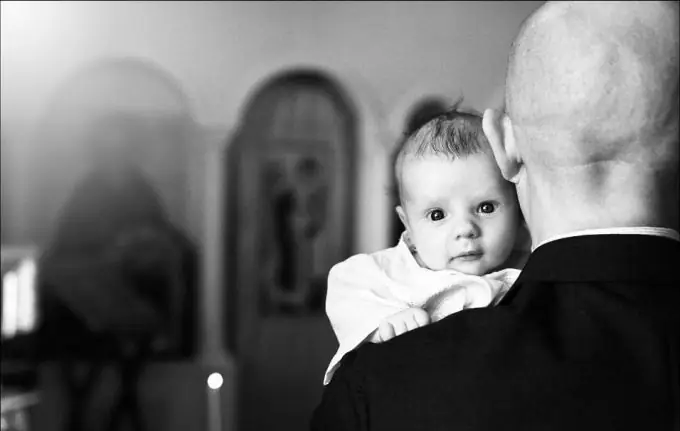 Instructions
Step 1
It is widely believed that the name given to a person during the sacrament of baptism is kept secret. However, this opinion is misleading. This is nothing more than a superstition associated with an erroneous view of the sacrament of baptism as a kind of mystical ritual that protects the baptized from ill-being and the influence of "dark" magical forces. The naming of a person by a name at baptism is carried out, first of all, as a sign of the introduction of a person "into the church": the name "in the world" must correspond to the name "in the church". At the same time, the name "in the world" and the name "in the church" differ, as a rule, only if the name given to a person at birth and registered in the corresponding certificate is not in the calendar. In this case, for the baptismal naming, a name close to "worldly" is chosen. For example, the name "Polina", which is not in the calendar, most often corresponds to the names "Pelageya" and "Apollinaria" present there. So, not everyone has a middle name different from the official one. However, in any case, the name assigned to a person at baptism is not a secret, but is pronounced publicly and registered in certain documents.
Step 2
Thus, the first and easiest way to find out your real middle name is to ask about it from the godparents who were directly present at your christening, or from their other close relatives who may have this information.
Step 3
The second method is to find a baptismal certificate that contains this information. The baptismal certificate can be kept by both the direct parents and the godparents of the baptized person.
Step 4
If the necessary information is forgotten by relatives, and the baptismal certificate is lost, it is necessary to find the church in which the baptism was carried out, and apply there for the metric lists stored there, in which the data on all persons baptized in this church should be indicated.