A polished parquet floor, on which graceful couples waltz in the bright light from massive crystal chandeliers. Ladies - in evening dresses, on gentlemen - tuxedos and butterflies … Luxury and grandeur, carelessness and lightness - this is what a modern man associates with a ball. It is possible to plunge into the past even today, because balls continue to live in castles and palaces in Russia and Europe, and in certain circles they are no less popular than discos among young people. But do not assume that you can get to the ball only with a title of nobility or a million dollars. Some balls are available to almost everyone, there would be a desire to plunge into the world of high society beauties and gallant men at least for a day.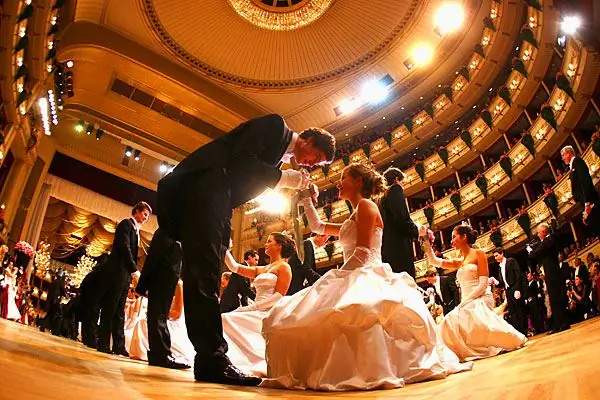 Instructions
Step 1
To get to one of the most famous Viennese balls, which usually begin closer to the New Year, it is enough to buy a ticket to Austria, book a hotel and purchase the entrance ticket to the ball directly. In Russia, some large tour operators in Europe can provide such a service, so you just have to pick up a ball gown or a tuxedo with a bow tie, without which you will not be allowed to the ball. All this can be rented in Vienna itself if you want to attend the ball and save some money. Also, before being among the dancing couples, it is a good idea to take a couple of dance lessons and learn at least the simplest waltz movements.
Step 2
If you want to get to the ball without leaving the country, you are on your way to St. Petersburg. In the Elagin Palace, in addition to excursions, costume dance events are also held, which are called "Balls at the Empress Maria Feodorovna". Once upon a time, only the cream of society could visit the empress's residence. Today the doors of the palace are open to all organized groups. The main thing is to apply in advance, the balls are scheduled for a month in advance. You won't have to think about clothes: the cost of a ballroom ticket will also include a costume made according to a historical model. Also at the ball, guests will be taught a short lesson of the famous polonaise dance.
Step 3
The organization of balls (as well as knightly tournaments, performances of minstrels, and so on) is permanently involved in numerous Russian reenactment and game teams. On the Internet, on specialized sites, it is easy to find information when certain roles (Tolkienists, for example) gather for the next convention (con), within the framework of which a ball will be arranged. Some role-playing groups are rather closed and do not tolerate the presence of strangers (civilians). Others, for a certain fee, allow everyone to attend their tournaments and balls, and even arrange master classes for them.