The task of the teacher is not only to give knowledge, but also to bring up a harmonious personality. The teacher achieves this in different ways: organizes exhibitions or excursions, meetings with interesting people, conducts class hours and individual conversations, and also compiles a wall newspaper with schoolchildren.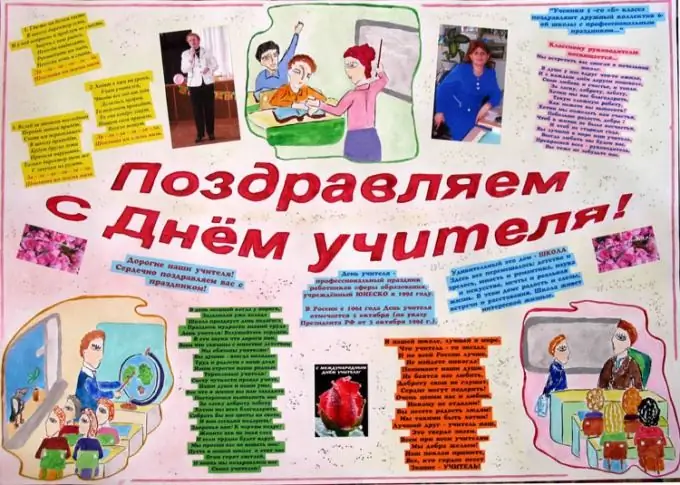 Instructions
Step 1
First, decide who will be responsible for what. Choose an editor-in-chief, journalists responsible for gathering information, and also artists.
Step 2
Allocate space on the wall newspaper for text information, illustrations, photographs, etc.
Step 3
Think about what headings you would like to see on the wall newspaper and what you will write about in them.
Step 4
If the wall newspaper is thematic, for example, timed to coincide with the decade of the Russian language or mathematics, then it is worth consulting with a subject teacher. He will be able to recommend you the necessary literature or help you write questions for a quiz or crossword puzzle.
Step 5
In such a wall newspaper, you can post material about famous scientists, scientific discoveries. Find a place also for some unusual and entertaining facts from the field of science. After reading the materials, children will learn a lot of new and useful things for themselves.
Step 6
If you plan to release a wall newspaper by the beginning of the school year, then it must contain information about new subjects and the requirements of teachers who will teach them. You can also record the schedule of lessons, the schedule of duty and the mode of operation of circles and sections.
Step 7
In poetic form, write congratulations on the Day of Knowledge, wish your classmates excellent studies.
Step 8
At the beginning of the year, you can add information about summer vacations. You can invite the guys to bring the most successful photographs about some unforgettable trip, it is also a good idea to write an essay about their impressions.
Step 9
In each wall newspaper, you need to leave a place for congratulating the birthday. Think of how you can arrange it in an unusual and colorful way. For example, you can draw a flower or cut and attach petals with a needle. They can be changed regularly, congratulating the next birthday. Glue a photo on the petal and sign your wishes.
Step 10
Try to design the wall newspaper so that it is interesting in content, as well as aesthetic and colorful.