The Baptism of the Lord (or Epiphany) is one of the oldest church holidays. The Orthodox Church celebrates Epiphany on January 19. It is with Baptism that the well-known Christmas holidays, so popular due to numerous signs and fortune-telling, come to an end.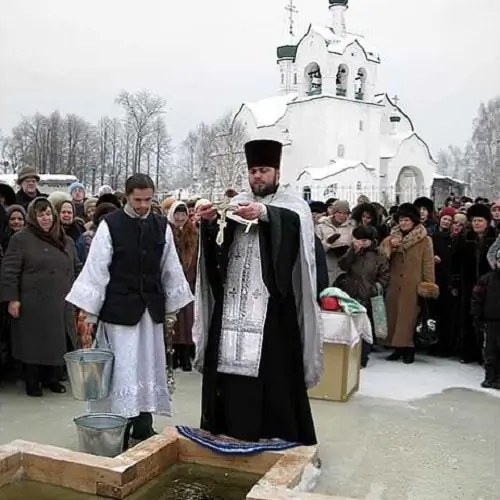 Instructions
Step 1
Preparations for the celebration of Epiphany begin on January 18, this day is also called Epiphany Christmas Eve. On the one hand, it is believed that it is on Epiphany Christmas Eve that fortune-telling and predictions give the most reliable result, and on the other hand, this day prescribes to adhere to a strict fast. Therefore, only lenten dishes are served at the table. The traditional dish for Epiphany Eve is kutia, which is made from rice, honey and raisins.
Step 2
The name of the holiday comes from the Greek "baptize" or "baptize", which means "immerse in water". It is not surprising that the main traditions of the Epiphany holiday are associated with water. Already on Epiphany Christmas Eve, the illumination of water in rivers and reservoirs begins, and the next day, church ministers perform Religious processions to these water sources, completing the process of great illumination.
Step 3
It is believed that the water lit on the feast of Epiphany has many healing properties. It is stored for future use so that it can then be drunk in case of illness and for prophylaxis. Also, an indispensable element of Epiphany is swimming in lighted rivers and reservoirs. Such bathing helps to cleanse not only of various diseases, but also of spiritual sins. Since at present a large number of people celebrate Epiphany by bathing, special places are organized for them - ice holes, where medical and rescue services are on duty. After all, swimming in open reservoirs during the famous Epiphany frosts is an activity that requires good physical shape and preparation.