Pension insurance certificate is issued in the territorial fund of compulsory pension insurance from the very birth (Federal Law No. 167-F3). In case of damage or loss, the document can be restored on the basis of Article No. 7, Clause 5 of the Federal Law "On Personified Accounting in the State Pension Insurance System".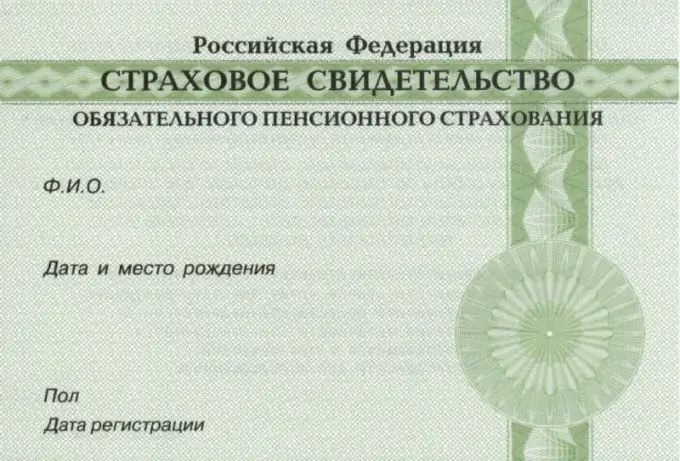 It is necessary
- application;
- passport;
- birth certificate.
Instructions
Step 1
If you have lost or damaged your pension insurance certificate, contact the policyholder with an application or apply in person to the territorial office of the state pension fund.
Step 2
Your policyholder is obliged to renew the pension insurance certificate within one month, obtain a duplicate and hand it over to you personally against receipt.
Step 3
If you independently apply to the territorial office of the pension insurance fund, you will be informed of the date when you can come and pick up a duplicate of the lost or damaged document. The renewal period cannot exceed 30 calendar days from the date of your request.
Step 4
Non-working citizens who are not payers of insurance contributions can personally apply to the Pension Fund of the Russian Federation at their place of residence. Submit a statement about the loss or loss of the pension insurance certificate. Based on the request, a duplicate of the document will be issued within 30 calendar days.
Step 5
Parents, guardians or legal representatives must receive a lost or damaged certificate of pension insurance for a child under 14 years of age. The same right is vested in guardians or legal representatives of incapacitated and disabled persons. A duplicate is issued on the basis of an application, identity documents of the indicated citizens and a child's birth certificate or other document proving the identity of incapacitated, disabled citizens.
Step 6
In case of loss or loss of a certificate of state pension insurance, the territorial branch of the pension fund has the right to request additional documents from the insured person or his policyholder.