The term years in Russia at the end of the 16th century was the term for which the owner could sue for the return of his fugitive peasants. This period was not constant, there are decrees establishing a five-year period, there are also documents on the appointment of 15 years for the legal return of fugitives.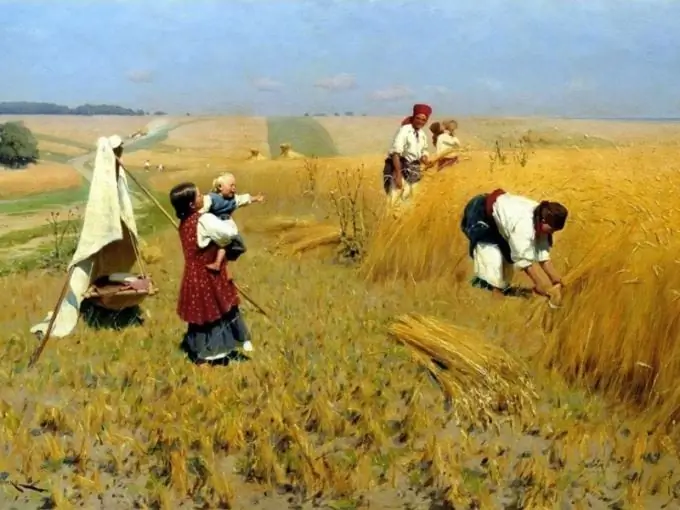 Lesson summers and St. George's day
Historians claim that curriculum summers were introduced in Russia by order of Fyodor Ioannovich in 1597. This historical event has a rather long and somewhat confusing backstory. For some time before the introduction of the lesson years in Russia, there was a system of relationships that was associated with St. George's Day. Every year on November 26, the day of St. George (George) was celebrated, at this time the final agricultural work was going on.
The peasants at that time were divided into two groups: those who worked on the land of the landowners, and those who worked on their own plots. At the same time, the first had some responsibilities, formalized in orderly records. If the conditions of such an agreement were fulfilled until late autumn, the serf peasant had the opportunity, within two weeks before and after St. George's Day, to go to work for another landowner.
Until that moment, the serfs had practically no opportunity to change the landlord. Before the introduction of class years, the terms of the contract were too difficult, and very few workers were able to fulfill them. Moreover, the old records indicate that until 1580 none of the peasants exercised their right to choose another landowner. The first were two serfs from the district of Moscow Rus, they were the only ones out of 60 peasants who fulfilled the difficult contract.
Nevertheless, the lack of an opportunity to transfer to another owner before the deadline did not prevent the peasants from actively fleeing landowners with poor working conditions. To prevent the flight of workers and an emergency summer was introduced, the number of fugitives was so great at the end of the 16th century that such measures were required. Now, on St. George's Day, the rights of the peasants were limited, at the same time, in some regions of Russia, reserved and designated summers were introduced.
Different periods of lesson years
Within five years (in 1607, this period was increased to 15), landowners could demand from other owners the peasants who had passed to them or return workers who had fled to freedom. It was this period that was called preschool years. The deadline was not always observed, so during the Peasant Wars, due to numerous riots, the landowners did not use their right. During this difficult period, workers fled en masse to the south due to hunger and intolerable conditions of enslavement.
According to the Cathedral Code of 1649, the regular summers were canceled altogether. But in their place serfdom ascended, finally forbidding the peasants to go over to other landlord masters.