Anna Olegovna Matison is a businesswoman, owner of a large advertising agency REC production, a talented director, successful producer, screenwriter and playwright, who achieved success at a fairly young age. She became widely known after her marriage to Sergei Bezrukov, who for her sake broke up with his wife Irina.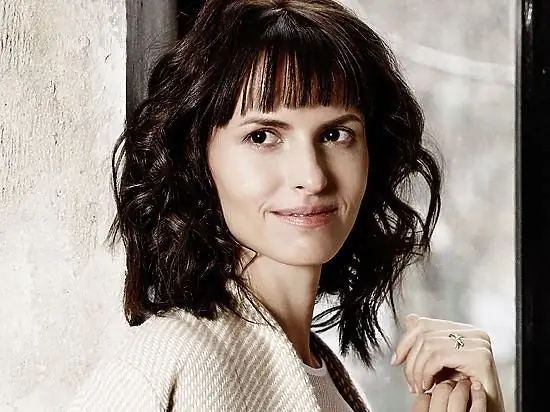 Anna Olegovna is a bright brown-eyed brown-haired woman with an excellent figure. He rarely smiles and always remains serious. Her close gaze seems to notice everything around her. She "does not go into her pocket for a word," she answers all questions tactfully and to the point.
Biography
Anna was born in Irkutsk on July 8, 1983. The family lived quite modestly. In addition to Anna, the family has two sons. They all lived in a small one-room apartment. Parents from a literary environment. Father is a prose writer, mother is a well-known journalist in Irkutsk. As a child, Anna studied well, her parents were actively involved in her. She has a background in music classes, art school and graduated with honors from high school. She dreamed of becoming an archaeologist and traveling to different countries.
However, she became interested in journalism and at the age of 16 she became a freelance employee of one of the TV channels. There she learned how to edit various videos, made useful contacts. Later, Anna entered the most prestigious state university in Irkutsk. I chose the most interesting for myself - the international faculty. Studied economics and foreign languages. At work, she made a dizzying career from journalist to producer in a very short time.
In 2004, Anna, together with Yuri Dorokhin, opened the REC production studio. Their company was shooting ads. The business found its niche and consumer, proved to be competitive, and in a few years the company became one of the largest in eastern Siberia.
Over time, Anna got a taste and wanted to shoot a full-fledged movie. There were no such opportunities in Irkutsk, and Anna Matison moved to live in Moscow, where she entered VGIK in 2008. During her studies, she shot the short film "The Mood Has Improved" based on the song of the playwright Yevgeny Grishkovets. The latter liked the work of the novice director and they began to fruitfully cooperate. Followed: the picture "Satisfaction", theatrical plays "Home" and "Weekend".
Then Anna tried her hand at being a documentary filmmaker. She shot films about pianist Denis Matsuev from Irkutsk and conductor Valeria Gergiev. Her scripts have attracted the attention of famous artists. Many stars have played in her films, such as the famous Konstantin Khabensky, Leonid Agutin, Anna Mikhalkova, Polina Gagarina and many other movie stars.
New Year's comedies "Fir-Trees" were shot based on the scripts of Anna Matison.
Personal life
On the set of the film "The Milky Way", which took place in a beautiful place on Lake Baikal, Anna met Sergei Bezrukov. A romance broke out between them, and after filming, returning to Moscow, Bezrukov finally broke up with his wife, and a few months later Anna and Sergei got married. The wedding was very quiet. Sergey's fans took the news quite difficult, given the death of his ex-wife's son. A few months after the wedding, Anna gave birth to a daughter, and in 2018 - a son.