The name of the group Pussy Riot became known after several events that received a wide public response. But until now, not everyone knows what these ladies in bright clothes and masks are like.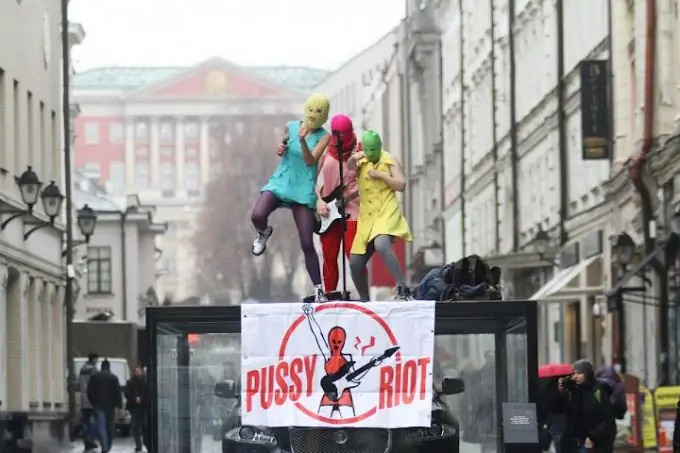 Pussy Riot is known as the feminist punk band that rocked the global community in 2012. Their performances are illegal and take place in unconventional venues. So, the actions in the metro, on the roof of the trolleybus, in the detention center and even in the Cathedral of Christ the Savior and on Red Square became famous. Pussy Riot does not have clear frontmen, the soloists perform under pseudonyms, which they often change. In public, the participants appear exclusively in balaclavas covering their faces, bright multi-colored dresses and tights.
Pussy Riot was born in 2011. According to its participants, after the "Arab Spring" they realized that Russia lacked sexual and political emancipation. They decided to introduce audacity into society, a feminist whip and demand a woman president. Politically, the group's interests revolve around feminism, anti-law enforcement, decentralization of government, and "anti-Putinism."
Representatives of Pussy Riot consider themselves to be the "third wave of feminism", they have a fairly clear philosophical outlook, criticize the dictatorship and promote freedom of thought. The group actively advocates for gender freedom and calls for the abandonment of the generally accepted opposition of heterosexuality and homosexuality.
The views of Pussy Riot have been refined on several occasions by the members. So, they vehemently protested against the fraud in the 2011 elections, and advocated the resignation of Vladimir Putin. They rank it as a symbol of patriarchal views, citing as an example the words about the tasks of women in society (childbearing and passive service to men). Pussy Riot defends the idea of freeing political prisoners, abandoning abortion restrictions and promoting homosexuality.
The group expresses itself creatively. First of all, the girls perform their own songs. The performances are illegal actions with live performances with an electric guitar, filmed and actively distributed on the Internet.
One of the most scandalous performances, followed by punishment, was a punk prayer in the Cathedral of Christ the Savior.
"Theotokos, drive Putin away", performed on February 21, 2012. After him, three representatives of the movement were detained - N. Tolokonnikova, M. Alekhina and E. Samutsevich, who during the investigation did not confirm their involvement in Pussy Riot. The investigation continues under the scrutiny of foreign media and with the active support of Pussy Riot by residents of France, Finland, Poland and other countries who hold rallies in defense of girls near Russian embassies.