Large families invariably command respect among the people around them: raising children has always required serious material and moral efforts. The state, seeking to help large families, provides them with numerous benefits and cash benefits.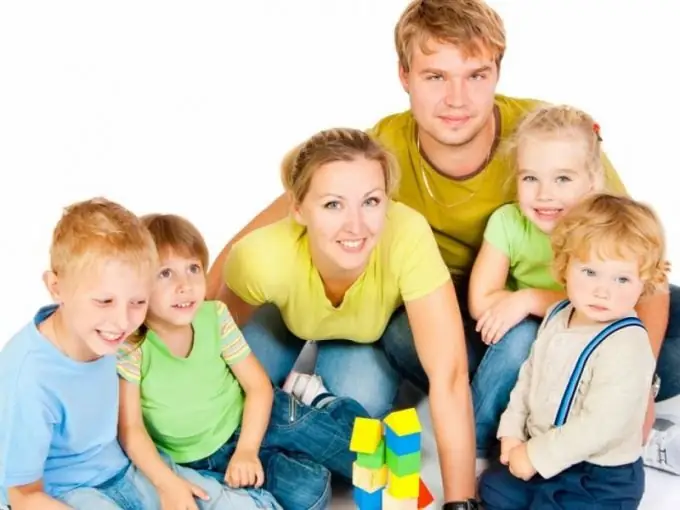 Instructions
Step 1
According to Russian law, families with more than three minor children are recognized as having many children. Every large family is entitled to benefits and payments that make life much easier for parents and reduce everyday costs. In addition to federal programs to support large families, there are also regional payments and subsidies.
Step 2
Since 2013, families where the income level of each family member is below the regional average, after the birth of their third child, are entitled to a monthly payment of 6-11 thousand rubles. The increased monthly allowance is paid in 53 regions of the country, as well as in the Altai, Kamchatka, Krasnodar, Primorsky, Khabarovsk and Stavropol Territories.
Step 3
Any large family, regardless of the standard of living, can receive a monthly childcare allowance in the amount of 5,153 rubles. In addition, for each child, parents receive an additional allowance to compensate for the costs associated with rising prices for food and education for children. If the family has no more than 4 children, the additional payment is 600 rubles. If the family has more than 5 children, the parents receive 750 rubles for each child. For large families with 5 or more children, the state also provides a general allowance for the whole family for the purchase of children's goods. In 2014, the amount of this allowance was 900 rubles. If the family has small children under 3 years old, they are entitled to a monthly payment of 675 rubles, which compensates for the cost of food.
Step 4
Also, large families are provided with compensatory benefits to pay for household and utility services. To reimburse utility costs, families with 3-4 children are allocated 522 rubles a month, and 1044 rubles for families with 5 or more children. To pay for a landline phone, 230 rubles are allocated monthly.
Step 5
Families with 10 children or more are entitled to an annual additional payment of 10,000 rubles. Also, mothers of 10 or more children who receive a pension can apply for an allowance in the amount of 10,000 rubles. Families with 7 or more children receive a lump sum payment of 100,000 rubles. Parents are also awarded the Order of Parental Glory.
Step 6
Families with many children can not only receive cash benefits, but also enjoy numerous benefits. Children of preschool age receive the right to enroll in kindergarten without waiting in line, schoolchildren in educational institutions receive free two meals a day. In addition, preschoolers from a large family can be served without queuing at polyclinics, and are entitled to free medicines and vouchers to health resorts and dispensaries. For children over 6 years old, the state compensates funds for the purchase of school and sports uniforms.