Maria Semkina is a famous Russian actress and model who became famous for her filming in the TV series "Daddy's Daughters" and "The Personal Life of Dr. Selivanova." What is interesting about the biography and personal life of the actress?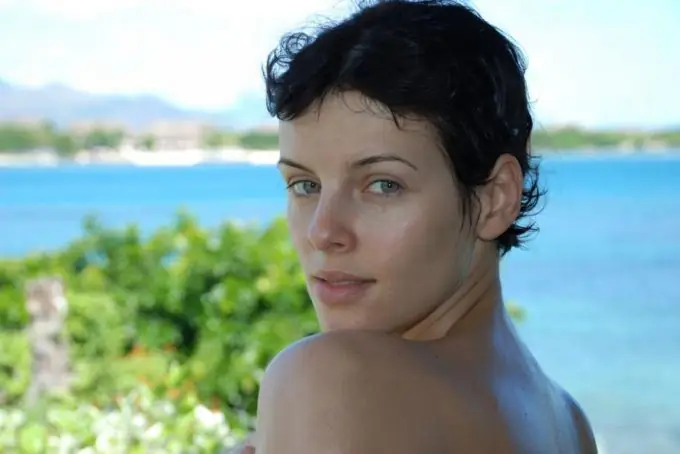 Biography and creativity of Maria Semkina
Maria was born on October 26, 1976 in the city of Rostov-on-Don. The girl's parents were engaged in the exact sciences and were far from art. Dad was a mathematician and mom was an engineer.
Since childhood, Maria studied well at school and very rarely went out for a walk with her peers. She preferred solitude and reading books. The girl was also in no hurry to communicate with the boys and was ashamed of her thin figure.
After school, Maria entered the local university of national economy. In one of the last courses, she decided to participate in a modeling contest and sent her photos. The girl was awarded first place and offered a job as a model. At first, these were city fashion shows, and then Maria was noticed at the Modus VivendiS agency and was invited to Moscow. From that moment on, she became a regular participant in fashion shows in different countries. The girl went to the catwalks of France, Italy, Japan, Germany and so on.
After that, Maria began to frequently appear on the covers of glossy magazines. In particular, she loved to pose for the Russian version of Playboy, which in 2000 recognized her as the beauty of the year.
In her hometown, Maria became the face of the Alice garment factory and for many years advertised the products of this enterprise.
In 2002, Semkina was invited to star in the film "Loneliness of Blood". This is how her film debut took place. After that, Maria starred in dozens of films and TV series, among which were the films "Antidur", "Still Carlson", "Kings Can Do Everything" and the series "In the Tango Rhythm", "Daddy's Daughters", "Inspector Cooper" and so on.
In 2011, Maria decided to finally devote her life to cinema and graduated from the Shchukin Theater School. After that, she began to appear more often on the big screens and won the love of the audience. In addition, Semkina still has an attractive appearance and amazes with her beauty even at more than forty years.
Personal life of the actress
At the beginning of her stellar career, Maria got married. At that time she was twenty years old, and a year later she gave birth to a child - the son of Mikhail. But Semkina did not find a common language with her husband and quickly broke up with him.
After that, the media attributed to the actress many novels with colleagues in the shop, but none of them received confirmation. From that very moment, Maria began to carefully hide her personal life, which she successfully does to this day.
Once Maria said that she had been in a happy marriage for a long time and was raising her son Mikhail. But she did not give the name of her chosen one. Also, the actress wants to give birth to another child and is on the way to realizing this dream.