Melissa McCarthy is a charming laughter with a great sense of self-irony. "Queen of Comedy", as she jokingly calls herself, began her career as an actress much later than her cousin Jenny McCarthy. But later fame did not prevent the comedian from instantly winning the audience's love.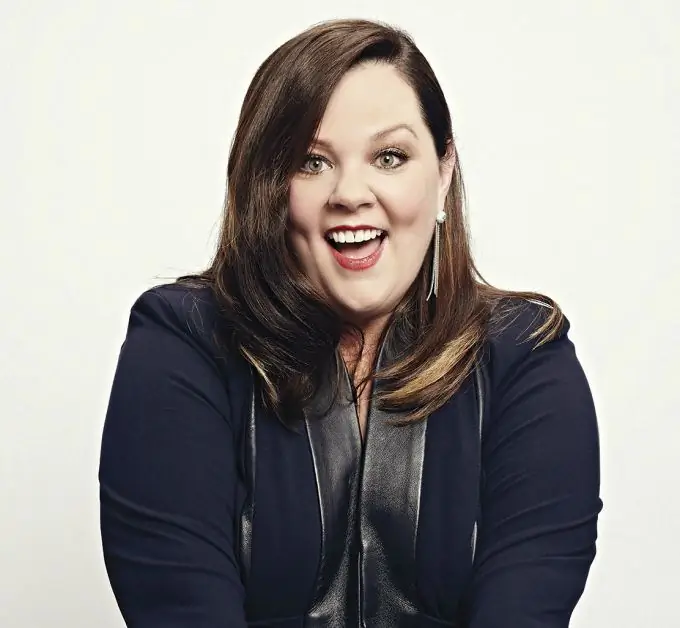 Young years and difficult choices
Melissa Ann McCarthy was born on August 26, 1970 in the small town of Plainfield, Illinois. The girl lived in a family of farmers and was an only child. Her parents are Irish by origin and Catholic by faith. Thus, Melissa was educated at a Catholic school in the city of Joliet, her home state.
McCarthy grew up a very cheerful girl and constantly made everyone around her laugh. Parents were not at all against her aspirations to conquer the stage. True, in addition to the career of an actress, Melissa was attracted by fashion. After graduating from school, the girl did not leave the state and went to the city of Carbondale, where she became a student at the University of Southern Illinois. Her choice fell on the faculty of "Art of Costume and Textile". During this time, she managed to try herself as a costume designer for local dance shows. Seeing how others perform on stage and get incredible pleasure from it, Melissa realized that she was bored with fashion, and she firmly decided that she would become a famous actress.
Moving and first performances
McCarthy moves to New York, where he conquers the scenes of local comedy clubs as a stand-up comedian. In parallel with this, she mastered the craft of acting in a studio in Manhattan. Acting courses allowed her to participate in theatrical performances. Having gained knowledge and a little experience, the young comedian leaves for Los Angeles, where her career in the film and television industry begins. It was 1996.
First roles and further success
Having settled in the south of California, the girl joins the troupe of comedians of the local school The Groundlings. By the way, Will Ferrell and Lisa Kudrow once studied at this fairly well-known school.
Together with the students of this school, Melissa participated in improvisations and sketches.
The aspiring actress made her TV debut in 1997. She got a cameo role in The Jenny McCarthy Show. In the future, Melissa regularly received invitations to appear in films, but all these were only cameo roles.
The project "Gilmore Girls", which was released on television in 2001, brought her real success. The series was broadcast for 7 years, and it was McCarthy who got the role of one of the central characters.
The actress got her first major role in a television career in 2010, agreeing to play a teacher named Molly in the famous sitcom Mike and Molly. The rating series lasted for about 6 years. A year after the start of the project, in 2011 for her comedic role, Melissa McCarthy received her first career award - an Emmy.
And then the actress had more than enough work. In 2011, she was involved in the comedy film "Bachelorette Party in Vegas". For her participation in this film, the girl received several awards. Moreover, she was nominated for an Oscar (but never won the statuette).
The filmography of the famous actress has more than 30 works. Everything else, in her arsenal and role in more than a dozen television projects.
She can be seen in films such as "Catch the Fat Woman If You Can", "Cops in Skirts", "Spy", "Big Boss", "Bachelor Party: Part III", as well as many others.
Personal life
The personal life of the actress is quite transparent, and there is no point in opening any veil of secrets. For more than 13 years, Melissa has been happily married, being the wife of actor Ben Falcone. From great love, beautiful children appear, and in 2007 the couple had a daughter, Vivian, and 3 years later, the second daughter of the spouses, Georgette (or as they affectionately call her, Georgie), was born. The whole family currently lives in Los Angeles.