It is not possible to bypass all the most significant places in the Tretyakov Gallery in one go. After all, the Tretyakov Gallery, being a real "Mecca" of painting and art, contains 62 halls, several separate exhibition complexes and museums, and, of course, more than 100 thousand works of art.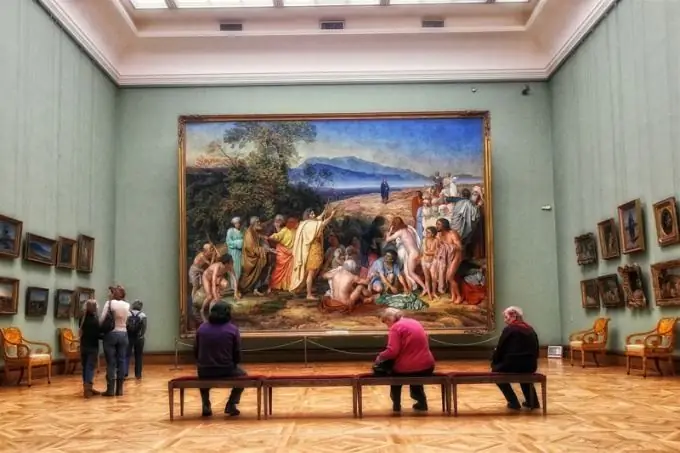 All the variety of the famous Tretyakov Gallery can be viewed only in a few days of planned excursions. You can devote a whole day to this, but during this time you will not be able to inspect every exhibit. That is why it will be useful to know which exhibits you should pay special attention to. There are many examples. Let's dwell only on a few.
One of the first numbers in the list of art connoisseurs is the painting "The Appearance of Christ to the People" by the artist Alexander Andreevich Ivanov, famous for his historical and biblical works. The author depicted the baptism of the Jewish people in the Jordan River by John the Baptist. This outstanding work of the 19th century can be found in Hall 10.
The famous painting by Alexei Kondratyevich Savrasov "The Rooks Have Arrived" is located in Hall 18. This is a symbol of the simple aesthetic beauty of the reviving nature, familiar to everyone from school time.
Having inspired numerous followers of artists, the intriguing "Stranger", written by Ivan Nikolaevich Kramskoy at the end of the 19th century, also deserves special attention. Her attractive, almost demonic gaze awaits her admirers in Hall 20 of the Tretyakov Gallery.
The original, perhaps the most famous work of the Russian expressionist Ivan Ivanovich Shishkin, "Morning in a pine forest", can be seen in Hall 25.
In the Tretyakov Gallery, you can see many famous icons of outstanding icon painters. For example, Rublev's Trinity, the Vladimirskaya icon of the Mother of God and many others.
Everyone has heard of the paintings of Repin, Vasnetsov, Surikov - the great artists of the Russian Fatherland. They should also be seen first.
The Tretyakov Gallery has a sculpture department. There you can get acquainted with the work of many famous sculptors. It is in this gallery that you can see the famous work of art - "The Rape of Europe" by Serov.
Every lover of world art will surely find something valuable and memorable when visiting the Tretyakov Gallery, because it is no coincidence that the fame of this place is spread far beyond the borders of Russia.