The serving trolley evokes associations among restaurant visitors exclusively with expensive, refined dishes. The waiters themselves believe that it is more difficult to work with carts, a high level of skill is required when operating a cart filled with dishes and glasses. The use of a cart can increase the profitability of the institution, since this simple attribute in an incredible way puts even the simplest dishes one step higher, marketers say.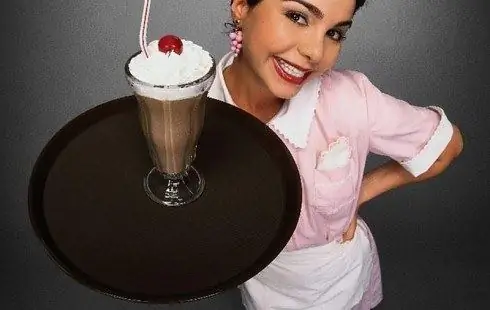 Working with a cart often turns into a real show. As a rule, food is laid out in portions directly in front of the table on a trolley, which is why additional skill is required from the waiter. A well-executed division of the dish into portions, effective work and perfected movements of the waiter help to increase sales, at least - to increase the amount of tips for the waiter. A trolley is a small showcase, a way of presenting a dish, and a lot depends on how competently you use it.
With the help of the cart, you can effectively serve fruits and snacks, fill salads directly in the hall, surprising the visitors. The visitor will surely be pleased that all the ingredients of the salad were mixed right before his eyes. The serving trolley transforms the preparation of even the simplest dishes into haute cuisine, in addition, with its help you can serve several customers at the same time, intelligently offering hot dishes.
In canteens and boarding houses, as well as when serving banquets, for example, carts are also used. The purpose of their use here is simpler and clearer - there are dishes on the tables, and the waiter carries soup or hot on the trolley, distributing the dish to everyone. This saves time for both the service staff and visitors.
Of course, in this case, the waiter's trolley carries an exclusively practical load, although aesthetically, this option for serving dishes is more profitable than self-service or serving dishes on trays.