Oleg Pogudin looks like a Russian nobleman of the nineteenth century. Noble, smartly dressed, with fine manners and a charming voice. It is no coincidence that women from all over Russia are massively in love with the sweet-voiced tenor.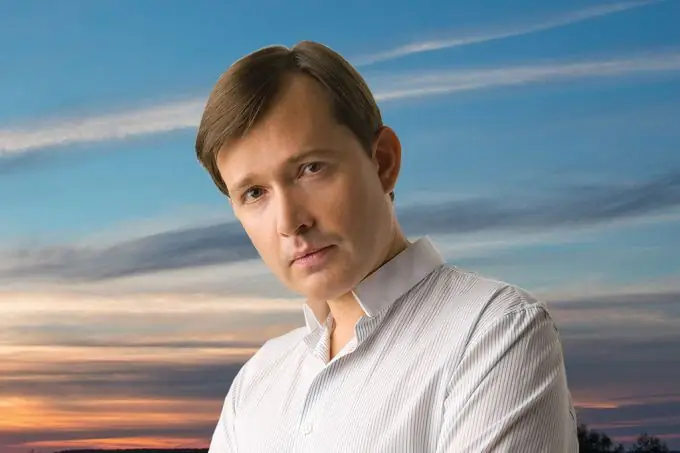 Childhood and education
Oleg Pogudin was born in 1968 in Leningrad. His family was educated and sufficiently wealthy - his parents worked for the defense industry in the status of scientific workers. Oleg's father was fond of music and singing, and apparently his father's hobby became his son's profession.
Oleg began to study music at the age of seven. He was a diligent student and, as a little boy, he was distinguished by a creative approach to any business. Oleg dreamed of entering the Leningrad Institute of Theater, Music and Cinematography. And he did it without difficulty. In general, the young man in the profession was often favored by luck. Studying at the university was easy for the guy. The teachers admired his delicate sensitive soul and unconventional approach to any activity. Many famous pieces of music sounded completely different from the lips of Pogudin.
Creative way
Oleg Pogudin, as a boy, went to work in the then famous Choir of Leningrad Radio. Soon he was chosen as a soloist, and the young man, together with the team, traveled all over Russia. Oleg was also abroad, took an internship in student exchange in New York.
After graduation, the young man entered the troupe of the Gorky Bolshoi Drama Theater. There, Oleg began staging his own musical solo performances, which made him famous throughout Russia. A voice of rare beauty, combined with remarkable musicality and acting talent, conquered the audience from the first sound.
Oleg Pogudin is also famous as a presenter. For some time he hosted the program "Romance of Romance" on the Kultura TV channel. Pogudin is also known for his teaching activities, he worked with students at the Academy of Theater Arts in St. Petersburg.
Oleg Pogudin has recorded more than ten albums, all very interesting and diverse. Among them is a collection of songs on a religious theme. Despite his popularity and universal love, Oleg remains an extremely modest person. He completely devotes his fame and his successes to God.
Personal life
Numerous fans of Oleg are constantly interested in why their favorite is still not married. The answer to this question is not easy. Perhaps, due to the tough creative schedule, the singer did not manage to meet his one and only. Or maybe the whole point is that Oleg is very religious and in the past was going to become a monk. For some reason, he did not succeed, but the feeling of himself as a monk in the soul of the singer could be preserved.
However, evil tongues talk about the numerous novels of a sweet-voiced imposing man. This is hardly worth believing, since the singer's religious foundations would not allow him to behave so freely.