A voucher is a document that allows a voter to vote for a selected candidate at another polling station. It is prepared by election commissions in accordance with the requirements of the legislation and is issued before the start of voting.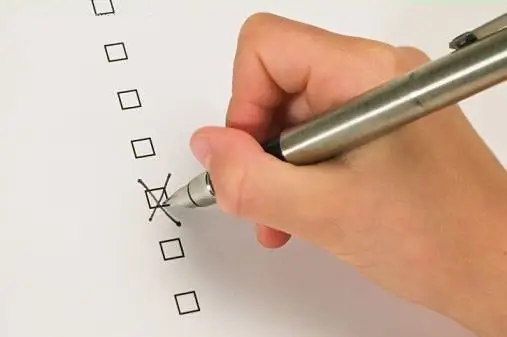 It is necessary
Passport of a citizen of the Russian Federation
Instructions
Step 1
The absentee certificate begins to be issued 1, 5 months before the territorial election commission, located, as a rule, in the building of the local administration. And in a month - in the precinct election commission at the place of registration of the voter. Issuance of this document ends on the last day before the elections.
Step 2
To receive an absentee ballot, bring your passport to the election commission on time. Write there an application for the issue of a document indicating the reason why you will not be able to vote at your polling station.
Step 3
After that, your data will be entered in the register of issuing absentee ballots, you will sign there and receive the necessary certificate in your hands.
Step 4
If you are unable to come by yourself for an absentee ballot, send your representative to the election commission. He will be issued a certificate in your name only if you have your own passport and a notarized power of attorney. It can also be assured by the administration of the medical institution where the voter is being treated. After the issuance of the absentee ballots to the representative, the members of the election commission will withdraw the power of attorney from him.
Step 5
With an absentee certificate, a voter has the right to vote at any precinct within the constituency where he has an active right to vote. That is, when choosing the President of the Russian Federation, the holder of an absentee ballot can leave his vote at any polling station throughout Russia. And in the case of district elections - at a precinct within the district where the elections are held.
Step 6
To vote with such a certificate, come to the polling station, show the members of the commission your passport and absentee ballot. After that, they will check your documents and, if they are in order, they will give you a ballot paper.