People's Artist of the RSFSR Andrei Mironov is said to have been born and died on stage. Indeed, his indefatigable heart gave a fatal breakdown on August 16, 1987 during the performance "The Marriage of Figaro" in Riga, where at the age of 46 he brilliantly played his last role.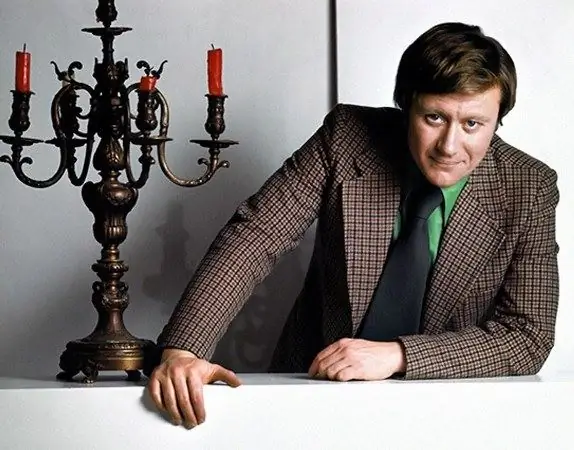 Andrei Mironov has always been a radiant, sparkling, tireless person with new ideas, with a great desire to create. Having worked all his life at the Moscow Satire Theater, he was very close friends with Alexander Shirvindt, Mikhail Derzhavin, Grigory Gorin, Mark Zakharov, Igor Kvasha and many other creative people. They had their own close company, their own inimitable humor. On August 16, 2012, the actors of the Satire Theater, which is now directed by Alexander Shirvindt, visited the Vagankovskoye cemetery and laid flowers at the grave of Andrei Mironov, where he was buried next to his mother, the famous actress Maria Vladimirovna Mironova.
In the theater of the Andrei Mironov Entreprise in St. Petersburg, which was created after his death by Rudolf Furmanov, performances dedicated to the memory of the great artist were staged: "Faryatyev's Fantasies", "Oh, my fool, I'm going crazy!" and "The Cherry Orchard" - a production in which he played Lopakhin. The playbill of the theater on August 16, according to many figures of St. Petersburg and Russian culture, was worthy of the blessed memory of Andrei Alexandrovich Mironov.
Films with the participation of Andrei Mironov were shown on various TV channels on August 16. Generations change, but such masterpieces as "The Diamond Arm", "Beware of the Car", "The Incredible Adventures of Italians in Russia", "The Blonde Around the Corner", "12 Chairs" and many other films are still popularly loved.
Two weeks earlier, on July 31, 2012, an evening of Larisa Golubkina, People's Artist of the RSFSR and widow of Andrei Mironov, took place. It was dedicated to the memory of Andrei Alexandrovich. The actress recalled various stories related to her husband's life, emphasizing that he was a very subtle and delicate person with a great sense of humor.
Many documentaries have been filmed about Andrei Mironov: Andrei (1991), The Last 24 Hours (2005), Bravo, Andrei! (2007), "Andrey Mironov. An ordinary miracle "(2007)," I'm afraid that they will stop loving me "(2011)," Look, I'm playing … "(2011) and others. Some of them were broadcast on the day of the memory of the actor on television channels.
Many fresh flowers were laid on the memorial plaque erected in honor of the memory of Andrei Mironov in Rachmaninovsky Lane on the house in which he lived from his birth to 1960, on August 16, as always on this day. They were carried by everyone: former colleagues, friends and ordinary people, endlessly devoted to their idol.