Fedor Emelianenko is the most famous Russian mixed martial arts fighter. He was repeatedly recognized as the absolute world champion in this sport. What is interesting about his biography and sporting achievements?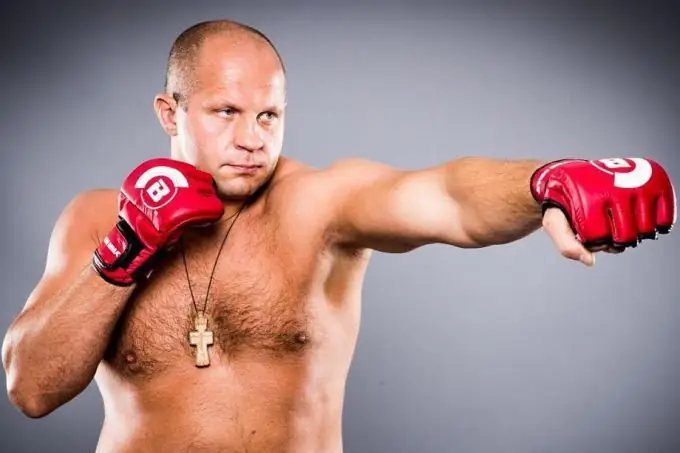 Biography of Fedor Emelianenko
The future athlete was born on September 28, 1976 in the village of Rubizhne, Luhansk region, Ukraine. After a couple of years, his family moved to a permanent place of residence in the city of Stary Oskol, Belgorod Region. It is this place that Fedor considers his homeland and brings unprecedented popularity to the city with his sporting successes.
At the age of ten, the boy went to study in the sports section of martial arts. He chose sambo and judo. From the first days it was clear that Fedor had a great future. He trained for several hours a day and never missed a workout. Fedor also took his younger brother Alexander with him, who also later became a famous athlete.
After leaving school, Fedor went to study at the school for the profession of an electrician and graduated from vocational school in 1994 with honors. All this time, he did not stop training and developing his skills in martial arts. Then he served in the army in his life.
Already at a young age, Emelianenko began to take part in various competitions and tournaments. And after completing military service in the tank forces, he returns to sports and receives the title of master of sports not only in sambo, but also in judo.
In 1999, Fedor was invited to the Russian national sambo team. He successfully participates in several tournaments and takes prizes. But due to poor sponsorship, he has to go from amateur to professional. So in 2000, Emelianenko became a mixed martial arts fighter. Fedor approaches business with full dedication and develops a new skill. He is hard at work boxing and builds a powerful punch with both hands.
Fedor is invited to participate in the battles of the Japanese organization of mixed martial arts "RINGS". This becomes his first experience in the ring. Emelianenko holds 11 fights and suffers one defeat from a Japanese athlete.
Then Fedor moves to other best world MMA organizations and conducts a total of more than 40 fights, of which 37 meetings end with his victory. Emelianenko several times receives the world title in the heavy weight category and repeatedly defends it in title fights. For his services, he receives many awards and titles, among which the state award of Russia, the Order of Merit to the Fatherland, 2nd degree, stands out.
In addition to mixed fights, Fedor continues to participate in sambo competitions. He became the winner of the World and European Championships several times.
Emelianenko continues to enter the ring now. By his example at 41, he shows young people how to achieve success in sports. Fedor also continues to live in Stary Oskol and is engaged in educating a new generation of Russian mixed martial arts fighters.
Emelianenko's personal life
There are only two true loves in Fyodor's life. This is the first wife Oksana, with whom they got married back in 1999, and the second wife, Marina. Having lived with Oksana for over 6 years, Emelianenko divorced. Then, in 2009, he had a wedding with his longtime friend Marina. But this marriage soon fell apart. In 2013, Fedor returned to Oksana, and they got married in a church.
In total, Emelianenko had four children from both wives. Moreover, the surprising fact is that they were all girls. The last child was born only in 2017.