Nicotine addiction is called addiction for a reason. Carcinogenic resins have a destructive effect on the entire body. But to overcome addiction is not only possible, but also necessary if you take care of your health and the health of your loved ones.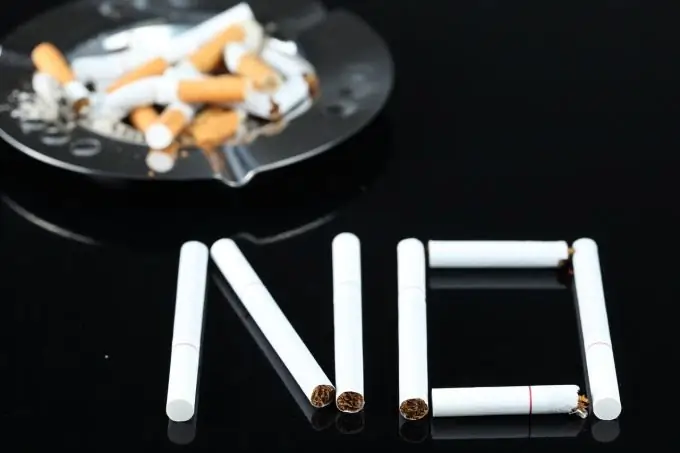 It is necessary
A sheet of paper, a pen, a wrist expander, computer games, sports exercises, apples, cheese, eucalyptus leaves, valerian root, hops, various juices
Instructions
Step 1
Psychological attitude.
Write on a piece of paper how much money is spent on cigarettes every day, how much money is spent per week, per month. Next, write down what material benefits you could purchase with this money for yourself and your loved ones.
List on paper the reasons that prompted you to quit smoking.
Schedule a day to quit smoking once and for all.
Hang the note sheet in a prominent place or carry it with you and read it daily.
Step 2
Analyze what reasons make you want to take up a cigarette.
If you are tempted to smoke a stressful situation, then try to either avoid stress, or go through stress without a cigarette, keeping your hands busy with something else. Twist a wrist expander or a regular pen in your hands.
If you habitually pull into the smoking room to relax and distract yourself from the work process, try to occupy the time with something else. Play a computer game, take a vigorous walk down the hallway, or get some air outside.
Step 3
Help your body cope with nicotine addiction.
Do breathing exercises, do exercises. Exercise relieves stress and helps the body recover.
Drink plenty of water and juices to remove toxic substances from your body.
Eat apples.
Cut the hard cheese into sticks and carry it with you when you want to smoke, eat the cheese stick.
Step 4
Take herbal preparations.
10 g of eucalyptus leaves pour 500 ml of boiling water. Insist 1 hour, strain, take a quarter glass several times a day.
Mix 50 g of valerian root and 50 g of hops. Brew a teaspoon of the mixture in a glass of boiling water, insist. Take 1/3 cup 3 times a day.