Elena Berkova is a media personality whose fame was brought about by her participation in the Dom-2 project. The girl is engaged in the modeling business, acts in films and actively participates in entertaining television shows.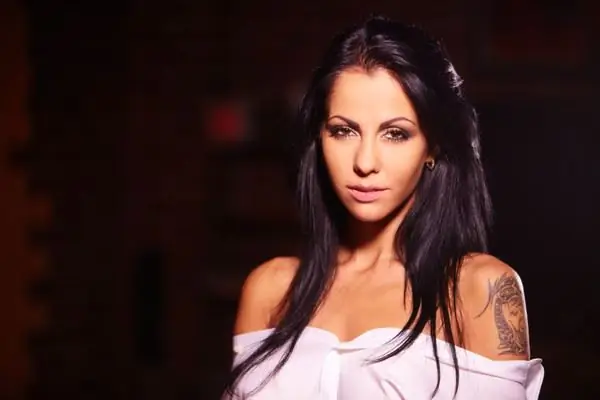 Biography
Elena Berkova was born in Murmansk in April 1985. The girl's childhood was spent in Nikolaev, where the family moved soon after her birth. Her mother worked as a teacher at a local school. Lena studied there. Classmates remember her as a sociable, open and cheerful person. There were cases when a girl brought up the teachers with her behavior.
Parents predicted Lena's career as a gymnast, but she herself liked to do ballet more. She soon realized that she dreamed of becoming an actress. From the age of 14, she began to try herself as a model, but her efforts were in vain.
With her first husband, Elena organized a marriage agency that brought the couple a good income. This was not enough for the girl, and in the evenings she began to work as a waitress. There she met Peter Herge. It was he who became her guide to the world of eroticism. The girl's dream came true: she became an actress, but in adult films.
Elena Berkova became famous thanks to her participation in the television project "Dom-2". She did not stay there for long: the intimate details of her personal life were revealed. Berkova's relatives were shocked by this news and sent her to a psychiatric hospital.
In 2011, a scandal flared up around Berkova's personality. She was tried for possession of drugs. The girl was sentenced to a suspended sentence.
Now Elena Berkova acts in video clips and films, participates in entertainment programs, tours the country with her own erotic show, and owns an intimate goods store. The girl played in the TV series "Bitsuha", about two friends who decided to get their bodies in shape.
Personal life
Elena entered into her first marriage at an early age. She was 16 when she married Albert. The first love quickly faded, and after 2 years they parted.
In 2005, Berkova again goes to the registry office with Vladimir Khimchenko. This union was also unsuccessful.
The third marriage, concluded in 2008 with Ivan Belkov, brought the girl the joy of motherhood. From her new husband, she gave birth to a son, Eugene. By the way, the child did not become an excuse to preserve the family. Almost immediately after the divorce, Elena began an affair with Bari Alibasov.
The next suitor was Vladimir Sabro. He is not a media person, and there is very little information about him. The press managed to find out that the man supported Berkova in a difficult life period. Vladimir proposed to her, but after a while he disappeared without a trace. Berkova suffered and mourned for him for a long time.
In 2017, Elena married Evgeny Stoyanov. The couple had grandiose plans for the future, but the marriage fell apart a year later. The man admitted that he suffered very much from this gap and tried to become an ideal husband for Berkova.