On August 29, 2012, the Kremlin hosted a ceremonial presentation of state awards to outstanding citizens of Russia: military men, cosmonauts, scientists and cultural figures, as well as representatives of various working specialties.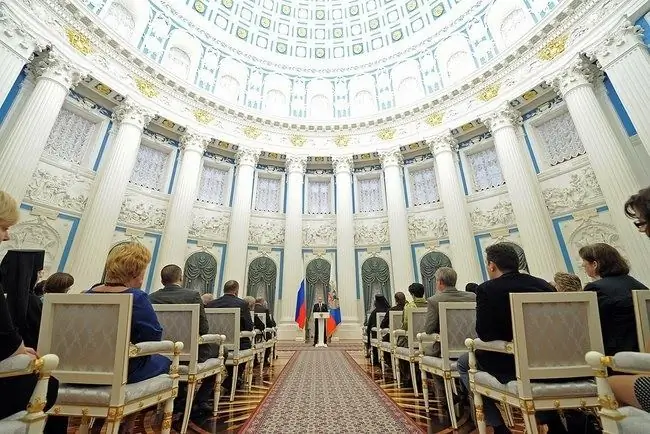 The awards were presented by Russian President Vladimir Putin. He delivered a speech addressed to those gathered in the Catherine Hall. The President expressed his sincere gratitude to all people who have made a great contribution to the development of the country. He emphasized that those gathered are people who are known and respected by their fellow countrymen and colleagues for their selfless work, for serving for the good of the Motherland. "It is on such people that our state has stood and will stand," concluded Vladimir Vladimirovich.
At the ceremony, for the first time in many decades, a revived award was presented, which existed in the days of the Russian Empire. This award was the Order of the Holy Great Martyr Catherine. In addition, another innovation has appeared - the recently installed badge of distinction "For Benevolence". These awards were awarded to people whose peacemaking, charitable, humanitarian services could not go unnoticed.
The Order of the Holy Great Martyr Catherine was awarded to the abbess of the St. Nicholas Convent, located in Maloyaroslavets - Abbess Nicholas.
Test cosmonauts Andrei Borisenko and Alexander Samokutyaev and, in addition, Artem Katunkin, a warrant officer of the special forces detachment of the Ministry of Internal Affairs of Russia, were awarded the title of Hero of Russia.
The awards ceremony was attended by outstanding, honored workers of Russian art, culture and science: singer and musician Iosif Kobzon, philosopher and choreographer Boris Eifman, director Karen Shakhnazarov, physicist Yevgeny Velikhov.
Among the recipients of awards in the Kremlin were doctors, teachers, workers of various industries, representatives of various professions and specialties.
The full text of Vladimir Putin's address during the state awards ceremony in the Kremlin on August 29, 2012, as well as a video version of this ceremony, you can find on the website of the President of Russia in the "Events" section.